From the Road of Expections to the Road of Marvels
by Bill Lammers, Hazelden alumnus, member of the Hazelden Betty Ford Foundation board of trustees, chair of the Washington DC alumni chapter
In 2000, at age 52, I arrived at a strange and wonderful place in Minnesota.
Hazelden at Center City. I expected to find a bunch of drunks with bottles in brown paper bags. Instead I found wonderful, warm, caring people from all kinds of backgrounds. At that moment, I began my journey from what I call "the road of expectations" to where I am today--"the road of marvels."
---
It hasn't all been a positive arc upwards.
In recovery, you fall down, get up, fall down and get up many times.
As an individual, that is difficult to do, but in fellowship it becomes possible.
---
Addiction: it's a family disease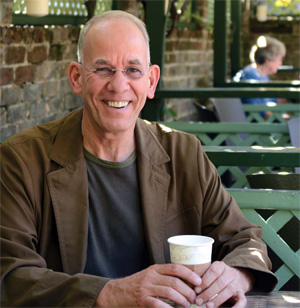 My story began when I was a very young child growing up in the chaos of a family torn apart by the disease of addiction. My dad was one of the most caring, wonderful people on the planet--when sober. He was pretty much the opposite when he was drunk. Unfortunately, he was under the influence far more often than he was sober. The strongest message I received as a child was "Don't grow up to be like your father."
As I observed what life was like in more "normal" families, I began to develop deep feelings of inferiority and shame--a black hole in my soul that I struggled to find a way to fill. I decided early on that I had to go it alone--that the only way to make up for my sense of worthlessness was to be perfect. I reasoned that if I could just be more perfect, people might like me, accept me, look beyond this great black hole I felt inside my soul.
And so I began traveling down my "road of expectations." This wasn't easy, but I hoped it would lead me out of the pain I felt. I became the perfect child, the 'A' studentleader, the marathon runner, the model navy officer, the successful professional. I married a wonderful woman and we had four incredible children--the perfect family.
None of that filled the black hole.
So I tried other things to soothe my soul, things that I tried to keep secret: sex, gambling, people pleasing. Alcohol became a big part of my daily life. I told myself I wasn't like my dad--for him, one sip of alcohol sent him on a two-week bender. I was a social drinker. I could control it.
But as time went on, I found I couldn't control it after all. There were blackouts, awful recurring episodes. And after 30 years of marriage, my world came crashing down. When my secrets came out into the open, I hit an emotional, psychological and spiritual rock-bottom. My perfect family crumbled in public view.
I knew I had to stop drinking, but I felt there was so much more to do to address the hole in my soul and try to repair my severely fractured family relationships. A close friend gave me the phone number for Hazelden.
Accepting yesterday, changing today
When I arrived, my deep sense of emotional woundedness penetrated every aspect of my life. For 28 days, I poured myself into learning everything I could about my disease, myself and the recovery process. I looked back on the trauma that stemmed from my childhood, my bad behaviors and how I had harmed my spouse, children, extended family and friends.
At Hazelden, the wonderful caregivers and my fellow patients gave me the tools I needed to begin my recovery journey. I came to understand the origins of the destructive path I'd been on. And through recovery I learned that although there is no changing the facts of my past, I can change each day into the future.
It hasn't all been a positive arc upwards. In recovery, you fall down, get up, fall down and get up many times. As an individual, that is difficult to do, but in fellowship it becomes possible.
In fellowship there is forgiveness and acceptance--and at the beginning and end of it all is love and a strong desire to help people to move forward, wherever they find themselves. My experience at Hazelden taught me that.
For the past 14 years, I have attempted to live a better life--a sober life--with daily amends to my loved ones. The scars of my past are still there, but the gaping wounds have healed. I am awed by life's wonderful surprises and experience peace in new ways. Today I am on the "road of marvels."
And one of the most marvelous things along that road is my service to the Hazelden Betty Ford Foundation. It is truly a gift for me to serve on the HBFF board of trustees and the Washington DC alumni chapter. I see first hand how thousands of recovery stories are written every day, thanks to HBFF's treatment and renewal programs, research and publishing activities, and outreach and education efforts. It gives me a great sense of wonder and gratitude to play a small part in that.
I've done my best to repair my family relationships, and today I'm so grateful for my four children and eight grandchildren. Although they are dispersed all around the country, when we get together I am present to them, intent on sharing the joys they bring to my life. I am grateful to have a very special partner who really understands me, seeing me when I cannot see myself and loving and accepting me unconditionally.
It's been a long, hard road, but there are marvels ahead.
The Voice, Fall 2014
---
GRATITUDE
Fellowship means that I never have to go through anything alone. It means I will always be surrounded by people who understand, who will listen and lead by example. Fellowship is the source of my spiritual connection with a power greater than myself. Fellowship is everything to me.
--Megan M.
I was sober for twenty three years when I stopped going to meetings. I left all my sober friends and started drinking again. I left the fellowship that was keeping me alive. After five years of drinking I came back to the people of AA and a trip through Hazelden. It is my fellow alcoholics that keep me alive and somewhat sane.
--Rick S.