Prevention
Bullying prevention
Bullying, whether it happens in-person or on line, is a serious issue that greatly affects the safety and well-being of the entire student population.
Statistics show that 23% of students in grades 4-6 had been bullied several times or more and 20% had bullied others. Bullying is closely linked to drug and alcohol use – both by the child who is bullied and the child who bullies. It is not a right of passage. It is not something that kids "just do." It is peer abuse and needs to be effectively addressed.
Hazelden is dedicated to helping young people live healthy lives. With evidence-based resources, like The Olweus Bullying Prevention Program, Safe Dates, Lifelines Suicide Prevention Program, Project Northland, and more, we provide programs that address the important issues that teens face everyday.
Hazelden has a number of websites which provide resources and information on the following topics:
Visit our online bookstore to see our full line of prevention programs.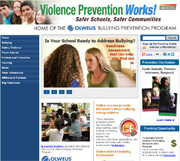 The world's foremost bullying prevention program
---
To arrange an interview with a bullying prevention expert or author:
Public Relations
651-213-4231
newsroom@hazelden.org
---
Earn your Continuing Education online
View
sample video clip
Teen Dating Violence 101

NEW


This interactive program provides key information about dating violence and explains how you can help teens form healthy, violence-free relationships. Interactive quizzes, video clips, graphics, case studies, and online references make this program enjoyable and informative.
No CEs offered for this course