Sessions
Friday, December 2,2022
[ 99 Seats Open ]

Recovery and Mental Health Awareness Hour 2022
Rancho Mirage, CA
Join Us for an Exclusive Advanced Screening and Discussion of the Documentary
Attention Must Be Paid: Women Lost in the Opioid Crisis
Special Friday Event | December 2, 3–5 p.m.

Betty Ford Center James West Auditorium
39407 Vista Del Sol
Rancho Mirage, CA 92270

Join other community members for this special event on the Betty Ford Center campus, calling attention to the impact of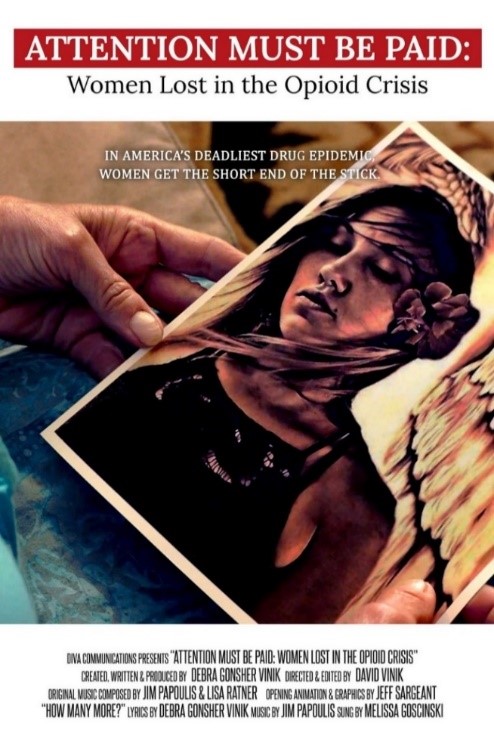 the opioid crisis on women—especially mothers—and the need for more resources and services to meet their specific needs.
Attention Must Be Paid: Women Lost in the Opioid Crisis will air on ABC and PBS stations, and at events, nationally, in 2023, and features expert commentary from retired Hazelden Betty Ford Chief Medical Officer Marvin D. Seppala. Don't miss this early sneak-peak screening. The film explores the stories of women who are battling opioid use disorder, through an intimate telling of their personal journeys. In doing so, the documentary exposes deep-seated and deadly gender inequities within the American health care landscape. The opioid epidemic is a women's issue. This film treats it as such, just as former first Lady Betty Ford emphasized that addiction is a women's issue, and a family issue too.

Following the screening, the film director, medical experts and one of the women featured in the film will discuss vital takeaways during a panel discussion and engage audience questions.
MEET THE EVENT HOST, MODERATOR AND PANELISTS
EVENT HOST | Tessa Voss, MA, LADC, CADC II

Voss is the vice president of the Hazelden Betty Ford Foundation's California Region and administrator of the Betty Ford Center. In December 2021, she became the first woman to lead the Rancho Mirage institution cofounded by former First Lady Betty Ford. Previously and since 2019, Voss had been executive director at the Betty Ford Center and was instrumental in its successful response to the COVID-19 pandemic. While earning a bachelor's degree in psychology and Spanish in her home state of Minnesota, Voss lost several friends in the early days of the opioid crisis. That inspired her to later earn a master's degree in addiction studies at the Hazelden Betty Ford Graduate School of Addiction Studies. Afterward, she spent five years as a counselor at Hazelden Betty Ford in Center City, Minnesota, where she helped launch Hazelden Betty Ford's Comprehensive Opioid Response with Twelve Steps (COR-12®) approach to treating opioid addiction and led the first COR-12 therapy group for women. From Minnesota, Voss moved to Oregon to become an addiction program manager at Hazelden Betty Ford in Newberg, where she then was promoted to director of clinical services, a leadership role she held for two years before transitioning to the Betty Ford Center. Voss also is in the Motivational Interviewing Network of Trainers and served as an adjunct faculty member at the Hazelden Betty Ford Graduate School. In 2022, she was recognized by Palm Spring Life in its 40 Under 40 feature.
PANEL MODERATOR | Carrie Steinseifer-Bates

Steinseifer-Bates is an outreach manager for the Hazelden Betty Ford Foundation. She is also a three-time Olympic gold medalist in swimming and a person living in long-term recovery from substance use disorder. She got sober in 2012 after multiple stays in treatment and has dedicated her life's work to helping others find treatment and recovery. She has a deep passion for recovery and a strong belief that treatment saves lives. Steinseifer-Bates lives in Oregon with her husband. She has two young-adult daughters and enjoys spending time with family and friends. She is an active member of the recovery community and enjoys running and competing in triathlons. Steinseifer-Bates also speaks frequently at events around the country. Most recently, she gave one of the keynotes at the large annual Recovery Reinvented event hosted by the First Lady and Governor of North Dakota.
PANELISTS
Celestina Barbosa-Leiker, PhD

Dr. Barbosa-Leiker is a professor and executive vice chancellor at Washington State University (WSU) Health Sciences Spokane. She is also a member of the Committee on Cannabis Research and Outreach and on the Executive Committee of the Program of Excellence in Addictions Research at WSU. Dr. Barbosa-Leiker's research investigates infant and maternal health and gender differences in substance use. Her research has demonstrated sex differences in the measurement of opioid withdrawal, relapse while in treatment and predictors of relapse. Her research also focuses on the transition from pregnancy to parenthood in women with substance use disorders. She is currently leading an interdisciplinary research team to assess mothers, infants and health care providers in order to better care for women with substance use disorders, with emphasis on all perinatal women during the COVID-19 pandemic. The results of these studies will help better educate health care providers and pregnant women, inform maternal and infant health policy, and improve standards of care.
Alta DeRoo, MD, MBA, DFASAM, FACOG

Dr. DeRoo is the chief medical officer of the Hazelden Betty Ford Foundation. She is a board-certified addiction medicine physician and obstetrician-gynecologist. Dr. DeRoo joined Hazelden Betty Ford in 2020 as medical director of the Betty Ford Center's three facilities in California. She is a Distinguished Fellow of the American Society of Addiction Medicine and a member of the American Association of Addiction Psychiatry and the American College of Obstetricians and Gynecologists. Dr. DeRoo's extraordinary record of accomplishment includes a 24-year career in the U.S. Navy. Given her dual medical specialties, she is a leading expert on maternal and fetal health implications of substance use disorder treatment, including medications for opioid use disorder during pregnancy. Prior to joining Hazelden Betty Ford, Dr. DeRoo worked at the University of Virginia's Culpeper Hospital and at several clinics treating patients with opioid use disorder. She was also elected president of the Virginia chapter of the American Society of Addiction Medicine.
Debra Gonsher Vinik, PhD

Dr. Gonsher Vinik is a film producer, writer and director who lives in New York City and founded Diva Communications, a certified women-owned business enterprise, in 1985. She has produced and written 21 documentaries. Twelve have been nominated for Emmy awards and six have won: And The Gates Opened (2007); The Eternal Light (2008); Yearning To Belong (2009); Divine Prescription: Stories of Faith, Health and Community (2013); Beauty of Their Dreams (2017); and Brightness of Noon: The Intersect of Faith, Immigration and Refugees, Part II (2020). Dr. Gonsher Vinik's films have aired on ABC and PBS, and at more than 30 film festivals around the world. Her newest feature film, Attention Must Be Paid: Women Lost in the Opioid Crisis, will be edited into a two-hour series airing on ABC-affiliated stations in May and September 2023. Afterward, an hour-long version will air on PBS stations. Dr. Gonsher Vinik began her career as a producer of Bravo Magazine and was head of production for both CBS/Fox Video and Scanline Video. In addition to her documentary work, she also runs the website Mincha Moment: Taking Time to Be Grateful, which is devoted to the daily practice of gratitude via short web videos, and is the author of Embracing Judaism; Personal Narratives of Renewed Faith; CareerSpeak: Voice and Articulation for the Business and Professions; and The Community College Guide.

Rosa Maldonado

A member of the Muckleshoot Indian Tribe, Maldonado lives in western Washington and works in the tribe's Culture Department. Her work is focused primarily on helping teenagers, especially girls, navigate the challenges of youth. Maldonado is a person in long-term recovery from addiction to opioids and other substances. Her recovery journey is among those profiled in the new film Attention Must Be Paid: Women Lost in the Opioid Crisis.
Learning objectives for those seeking CE's
At the end of this event, participants will be able to:
Recognize gender-related differences in how people experience substance use and substance use disorders
Describe unique barriers for women in need of substance use disorder treatment and recovery, including potential discrimination to which they may subject themselves
Define the need for, and be able to advocate for, more gender-specific services nationwide and public policies that are less punitive and more empowering and recovery-oriented


The event is free and all are welcome. 1.5 CE's available.
The Betty Ford Center Awareness Hour is a 46-year tradition in Rancho Mirage and one of the longest-running, most influential speaker series of its kind. It started at Eisenhower Medical Center in 1976.

---
Questions or ADA requests? Please contact Jeff Schlund via email or call 1-760-423-6728 or Jeremiah Gardner via email or call 1-952-232-8109.
---
The Hazelden Betty Ford Graduate School of Addiction Studies, provider #1487, is approved to offer social work continuing education by the Association of Social Work Boards (ASWB) Approved Continuing Education (ACE) program. Organizations, not individual courses, are approved as ACE providers. State and provincial regulatory boards have the final authority to determine whether an individual course may be accepted for continuing education credit. Hazelden Betty Ford Graduate School of Addiction Studies maintains responsibility for this course. ACE provider approval period:11/22/2020-11/22/2023. Social workers completing this course receive 1.5 continuing education credits per training.
Hazelden Betty Ford Foundation is recognized by the New York State Education Department's State Board for Social Work as an approved provider of continuing education for licensed social workers #SW-0529. The Graduate School is approved by the American Psychological Association to sponsor continuing education for psychologists. The Graduate School maintains responsibility for this program and its contents. The Graduate School is an NBCC approved Continuing Education Provider, ACEP # 6547, and may offer NBCC-approved clock hours for events that meet NBCC requirements. The ACEP solely is responsible for all aspects of the program. This course has been approved by Hazelden Betty Ford Graduate School of Addiction Studies, as a NAADAC Approved Education Provider, for educational credits, NAADAC Provider #77968. Hazelden Betty Ford Graduate School of Addiction Studies is responsible for all aspects of its programming. The Graduate School is approved to provide continuing education by CAADE Provider # CP20 975 C 0325, CCAPP Provider Number 1N-88-860-1123, CADTP provider # 125, and CA BRN CEP 16722.
Participants are required to keep their certificate for a minimum of six years. For information about this continuing education program, please contact the Hazelden Betty Ford Graduate School of Addiction Studies, P.O. Box 11 CO9, Center City, Minnesota 55012, 1-651-213-4538.
---
HAZELDEN BETTY FORD FOUNDATION PHOTO POLICY: By attending this public event, I hereby grant the Hazelden Betty Ford Foundation the right to use and publish photographs and videos of me, or in which I may be included, for editorial trade, advertising, and any other purpose and in any manner and medium and to alter the same without restriction. I hereby release the Hazelden Betty Ford Foundation and its legal representatives and assigns for all claims and liability relating to said photographs and videos.