Pondering and wandering on the Healing Way Trail
A peaceful meadow inspires an idea
Although the ribbon cutting was just last summer, the idea of creating a walking trail with stops representing each of the Twelve Steps at Springbrook, Hazelden's Oregon facility, was first dreamed up many years ago.
The campus's 27 acres include a large, open meadow. Standing alone in the center is a spectacular oak tree. Admired by patients and staff members, this tree came to be known as the "God Tree," symbolizing for many the concept of "a Power greater than ourselves," as referenced in Step Two.
The beauty and tranquility of this outdoor space inspired the staff of Springbrook's Spiritual Department to create a Twelve Step trail back in 1999. There was no funding for anything elaborate, but that didn't stop them. Using white plastic buckets stabilized with concrete, plastic signs and folding chairs, they built a walking path with a stop for each of the Twelve Steps. It wasn't fancy--but it offered a quiet place for reflection and meditation. And the God Tree was visible from each step.
---
You can google the Twelve Steps. You can read them in the Big Book.
You can spend months--or years--working through them.
But nothing is quite the same as walking the Twelve Steps on our Healing Way Trail.
--Jan Vondrachek, Vice President, Pacific Northwest Region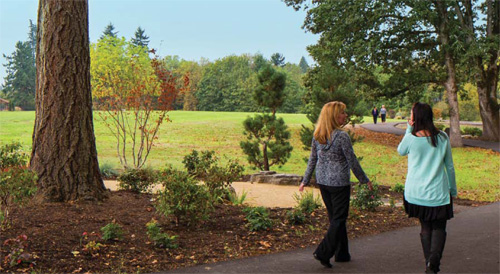 ---
The Springbrook community comes together
Last year, Jan Vondrachek and the Board of the Hazelden Pacific Northwest Region launched a campaign to raise $120,000 to enhance the path. They wanted to build a winding walkway linking miniature landscapes for each of the Twelve Steps, symbolizing the journey that patients begin at Hazelden. Each step would be engraved on a stone, surrounded by landscaping that reflects its meaning.
Not only were board members and alumni enthusiastic about donating to the effort, but the Springbrook staff--anticipating that the trail would become a valuable part of their patients' treatment plans--took it upon themselves to raise money as well. As Jan Vondrachek says, "It's not just a pretty landscape. It carries deep meaning and purpose for patients. And whenever something is about patient care or improving the patient experience, our staff steps up."
In fact, Springbrook staff is wholly responsible for funding the third step of the trail: Made a decision to turn our will and our lives over to the care of God as we understood Him. This stop on the trail was constructed at the base of the "God Tree," which patients now refer to as the "Third Step Tree."
"I have heard patients recount more than one moment of clarity or insight gained while sitting at the tree," reports Lisa Knudsen, spiritual care professional.
Landscape design reflects the meaning of each step
Each stop illustrates one of the Twelve Steps in a unique, moving way. Step One talks about how our lives have become unmanageable, so the landscaping around it is wild and untamed. Step Ten, which urges us to take personal inventory and admit our wrongs, uses mirrors to encourage selfreflection and see ourselves as we really are. Step Eleven, on prayer and meditation, is a serene, self-contained Zen Garden.
Staff regularly incorporate the Healing Way Trail into their treatment programs. "I often have members in my spirituality group walk the trail as a mindful meditation. It gently speaks to us wherever we are in our journey. It truly adds another dimension to our treatment here," says Denise Brooks, spiritual care professional.
And patients couldn't be more delighted with the trail. One eloquently describes it like this: "It is a living metaphor for life on the path that has chosen us. It starts in the safety of our surroundings at Hazelden, showing us the steps that lie ahead."
Another patient expresses her feelings about the trail more succinctly: "I like pondering while wandering."
Although the construction of the trail is officially completed, it continues to change and evolve. Patients create meaningful objects and place them on the trail--a decorated rock painted with the word "Hope," or a design made with polished stones. "And we hope to add a gazebo, and maybe a yurt for groups, lectures and spiritual workshops. Yurts are very Pacific Northwest!" adds Jan Vondrachek. "It's a continual work in progress."
The Voice, Fall 2014