My Thinning Years: Starving the Gay Within
By Jon Derek Croteau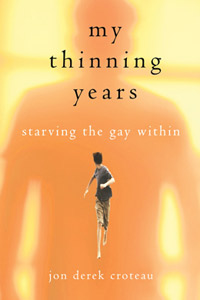 As a child, Jon tried desperately to be his father's version of the all-American boy, denying his gayness in a futile attempt to earn the love and respect of an abusive man. With this he built a deep, internalized homophobia that made him want to disappear rather than live with the truth about himself. That denial played out in the forms of anorexia, bulimia and obsessive running, which consumed him as an adolescent and young adult.
'The Castle' - an excerpt from Jon's book
Early on, a bunch of us decided we'd go to London for an upcoming weekend. Tom and Michael would come along with a few other kids from the Castle. Some of us theater geeks wanted to get to the West End in London, and I always wanted to see where the Queen lived.
Seeing Big Ben and Parliament and Buckingham Palace was surreal. Then we walked to Westminster Abbey. Inside the massive church we heard a choir practicing. It was so moving. Tom, lover of musical theater, nursery rhymes, and fairytales, wanted to go to Kensington Gardens to see the statue of Peter Pan. Something came over me. I was overwhelmed--so moved by everything I'd seen so far, and so grateful for the opportunity to be there. I was happy, but also solemn. I felt compelled to sit down, pull my journal from my backpack, and write the way I had during Outward Bound. This time, I wasn't writing to come out to my friends. I felt I needed to tell my father the truth. Underneath the statue of Peter Pan, I sat down and began to write him a letter.
As I sat there, I played my mother's words over and over in my mind. "Never tell your father. . . ." But for some reason, I needed to tell him. I knew in my heart that he would reject me, but I guess I also hoped my father, the man I was supposed to look up to as a hero, would come through and save me. I thought blood had to be stronger than his biases against anything I could tell him about myself. I also knew that after surviving Outward Bound, no matter how bad my dad's reaction would be, I could survive it, too.
Under the statue of Peter Pan, writing down my truth and losing whatever innocence I had left, I explained to my father in seven pages why I'd contemplated suicide, why I'd starved myself, and why I wanted to disappear.
Over the next several weeks, I rewrote the letter many times. But then, in Barcelona, after traveling to Olympic Park and being inspired by the beauty and by what had gone on there, I found the courage to actually mail it. My mother had warned me. My sister and brother had both warned me when I called them from the Castle to talk about this. But I didn't listen. I couldn't live with the lie. Despite their contention that Dad wouldn't handle it, I needed to tell him. The prospect of living without my father was better than the prospect of living a lie. I licked the foreign stamps and placed enough of them on the envelope to carry it across the Atlantic Ocean and into the mailbox at Crescent Circle. I knew that letting the letter go into the mail slot at the post office was going to change my life, but it was essential. I let my confession slip out of my hand and into the slot. And with that, there was no turning back.
---
Jon Derek Croteau brings a heady mixture of raw emotion, pathos, and humor to his powerful journey from self-hatred and punishment to self-affirmation and healing as a gay man in My Thinning Years. Croteau is on a mission to make a difference and help those who are in need, disenfranchised, or impacted by discrimination. A senior partner at a leadership consultancy for higher education and health care clients across the globe, he is also deeply involved in several foundations and nonprofits, where he champions for equal rights and effective leadership. The author of three academic books on staff development and leadership as well as numerous articles for journals and periodicals, he is a highly sought-out speaker on the topics of leadership, eating disorder recovery, body image, and coming out. Jon legally married his partner, Justin Croteau, in 2007 and currently resides in Vermont.