Recovering My Kid
In this excerpt from Recovering My Kid, Joseph Lee, MD, outlines the importance of fulfilling the roles we're best suited for, whether that's being a parent, grandparent, or clinician.
The Roles We Play for One Another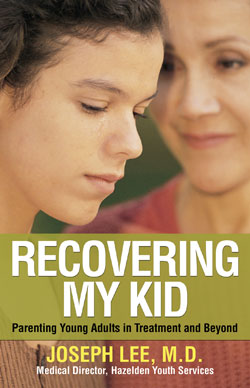 It's tempting for family members to take on extra roles to support their children. Sometimes this is unavoidable. Parents routinely schedule appointments for their children or find resources for help. Nothing wrong there. Pursue this path unchecked for too long, however, and most parents find that they are doing all the work in treatment while their children remain stuck. If they aren't careful, soon they are operating as co-therapists, parole officers, confidants, and everything in between. Each stretch of our primary role may appear justified, but as a whole, these stretches undermine our emotional objectivity. This is simply unsustainable. The multiplicity of roles can be particularly hard to avoid if you are a teacher, therapist, or health care professional, or are in any other profession that offers general insights about your child's condition.
Here is an example.
Young people in treatment recognize the need to be away from their immediate home environment in order to stay clean and sober. This often means getting away from using friends, dealers, and other triggers to start using again. But sometimes they choose to pursue their recovery under the supervision of a family member--a grandparent, uncle, aunt, or older sibling.
There are many times when such arrangements may be of clear benefit, but I would advise some caution in condoning such decisions. It's one thing to provide a safe place for a relative to recover. It's another thing completely to police that person's treatment. Let's say you are an aunt, and your niece wants to move in with you after residential care. What other supports are available? Does she have mental health needs? If she is in a Twelve Step program, are her meetings and sponsors within reach? What will happen if she relapses? Will you hold resentments or take it personally? Will her immediate family members hold you accountable?
I care deeply for the young people under my care. But my role is clinical. I cannot become their best friend or replace their family. There are clear lines that help me maintain objectivity and compassion.
Looking at it that way, it's easy to see why roles are important in families as well. Once we know what we can and cannot do for our loved ones, the less resentment we'll hold, and the more supportive we can be.
Bottom line: Don't try to copilot your child's treatment program. Just be a parent. Ask yourself these questions:
How does your role in your child's recovery differ from that of your child's doctor, therapist, or other treatment providers?
What specific behaviors on your part might indicate that you're trying to take on someone else's role?
* * * *

Excerpted from Recovering My Kid by Joseph Lee, MD. Lee is the medical director for Hazelden's youth services. A public speaker and commentator in the national media, Dr. Lee has been featured on The Dr. Oz Show, NPR, and CNN, and in the Wall Street Journal. In addition to his board certification in addiction medicine, Dr. Lee completed his adult psychiatric training at Duke University and his child psychiatry fellowship at Johns Hopkins Hospital.
Recovering My Kid: Parenting Young Adults in Treatment and Beyond
Softcover, 248 pages
Raising a child is tough as it is, but raising a kid who's recovering from addiction requires a whole new set of tools. The fact is that getting your family well again will likely require a new form of parenting. In his groundbreaking book Recovering My Kid, Dr. Joseph Lee, the medical director for Hazelden's youth services takes worried, confused, and angry parents by the hand and teaches them how to create a culture of essential support, appropriate boundaries, and emotional objectivity. His goal is to give parents like you the confidence to lead their child and family through the healing process and adjust to a clean-and-sober life.
In his honest and straightforward style, Lee explains the difficult concepts of addiction, treatment, and recovery, and describes what the recovering loved one is going through in a meaningful way that family members can understand. He then addresses parents' most pressing questions and fears: How has addiction affected my child and our family? What happens when my child returns home from treatment? How can my family support his or her recovery? What if my child relapses? How can my family get well again?
List Price: $14.95
Online Price: $13.45
---
The Bullying Antidote
In this excerpt from The Bullying Antidote by Dr. Louise Hart and Kristen Caven, the authors connect alcohol and drug use to family violence and bullying behavior.
Victims of Alcohol and Drug Use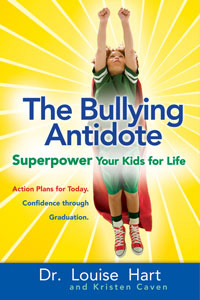 According to the National Association for Children of Alcoholics, "Almost one in five American adults (18%) lived with an alcoholic while growing up." Families with substance abuse problems have more negative interactions and higher levels of conflict than families without these problems. Because alcohol lowers inhibition and impedes judgment and restraint, children in these families are more likely to be abused and to witness family violence. They are more at risk for disruptive behavioral problems and more likely to become alcoholics as adults. Simply put, alcoholism can destroy families.
People use substances innocently without intending to become abusers; however, here are some statistics from the National Association for Children of Alcoholics:
Approximately three of four (71.6 percent) child welfare professionals cite substance abuse as the top cause for the dramatic rise in child maltreatment since 1986.
Most welfare professionals (79.6 percent) report that substance abuse causes or contributes to at least half of all cases of child maltreatment.
39.7 percent of welfare professionals say substance abuse is a factor in more than 75 percent of the child maltreatment cases.
Alcohol and drug abuse also prevent parents from supporting their children in school, which has a ripple effect on society. Children who see their parents using drugs and alcohol, or who have easy access to these substances at home, are more likely to use them. Television is full of images of people drinking now that Federal Communications Commission rules have been relaxed. Alcohol is accessible in many homes, as are prescription medications. Many adolescents think prescription medications are safer than illegal drugs, but abusing prescription drugs can also lead to addiction, overdose, and death.
Here's the bullying connection: People don't start using drugs with the intent of becoming a bully or an abuser. But addictive substances are dangerous for some of the same reasons they are enjoyable: they tend to relax our inhibitions and let us do things we normally wouldn't do. Furthermore, they affect our ideas of what is right and what is wrong. Certain substances can turn good people into monsters.
* * * *
Excerpted from The Bullying Antidote by Dr. Louise Hart and Kristen Caven. Hart is a community psychologist dedicated to creating family and school environments in which children thrive and learn the skills necessary to become healthy, self-directed, loving adults. She has conducted seminars for thousands of parents and educators nationwide. Caven, Louise's daughter, is the mother of a teenager and is deeply involved with kids and teachers in public schools. Kristen writes and speaks on many topics in many genres.
The Bullying Antidote: Superpower Your Kids for Life
Softcover, 396 pages
Help your children develop the communication skills, self-respect, and self-esteem needed to be confident and resilient in the face of a bully.
As parents, we want our children to succeed. Not just academically, but personally. We hope they will make friends and feel secure in themselves and their environment when they are out on the playground or in the classroom. The reality is, though, that bullying has reached epidemic proportions in our nation's schools and communities. When it isn't addressed, it contributes to higher rates of depression, substance abuse, and suicide among youth.
Many kids simply do not feel safe--and their teachers and parents may have no idea what's going on. Some parents who know that their children are having difficulty do not know what to do: Are these kids just being kids? Should I tell someone?
In this critical, life-saving book, Louise Hart, Ed.D., a leading educator in self-esteem development and Kristen Caven, give parents the skills they need to prevent their children--whether 6 or 16--from being bullied. The antidote, they reveal, is to equip moms and dads with the tools to raise confident and resilient kids through positive parenting, including tips and a course of action for:
boosting self-respect, self-care, and self-esteem in your children
teaching your kids how to communicate effectively and assertively
devising an action plan with your children in the event they are bullied
creating a family culture where bullying behavior is not accepted
List Price: $14.95
Online Price: $13.45