Is it a coincidence that the word DOG is GOD spelled backward?
New Hazelden at Plymouth Staffer Brings to Patients
Unconditional Love
At just eight months, Willow is already a pro. Each morning, her owner and handler Jeannine Leonard (one of the Spiritual Care Professionals of the Hazelden at Plymouth facility for adolescents and young adults ages 12-25) tells her to "get dressed." Willow knows that command means it's time to put on her uniform--a red vest--and get to work spreading love to everyone she meets.
Willow, a fluffy Australian Labradoodle, bred especially for her wonderfully calm temperament and quick intelligence, joined Jeannine on the spiritual care team in June of 2014. She is the realization of a dream Jeannine has had since she came to Hazelden, eight years ago. "We strive to be leaders in the best proven techniques and practices, so I knew that it was important to incorporate animal assisted programming," Jeannine says. Research shows that well-trained facility dogs can bring significant health benefits to patients--reducing anxiety and stress, lowering heart rate and blood pressure, and even boosting levels of naturally occurring hormones that promote a sense of well-being.
---
Willow, a certified animal-assisted programming dog, comforts in ways that humans can't.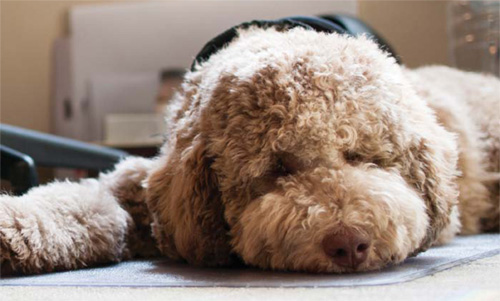 ---
A connection deeper than words
Jeannine facilitates "step groups," working with patients to address steps Two and Three of The Twelve Steps, which focus on hope, recovery and learning to accept support. She also leads "grief groups," for patients who are dealing with traumatic loss.
Willow is a powerful presence at these meetings. Young people who hesitate to risk putting their thoughts into words find they can communicate with Willow through a different kind of language. When someone is grappling with difficult emotions, Willow will walk over and rest her head in her lap or lie down with her muzzle on his feet. And somehow, Willow's touch allows patients to break through their pain and begin to reach out, speak about their struggles and feel hope.
"She offers nurturing, love and acceptance to kids who often feel utterly unworthy of those things. She doesn't judge them for anything they've done in their past. It's a first step for them in learning to accept love and support," Jeannine says.
Jeannine remembers a young girl, newly arrived, who made a show of being completely in control--as if treatment at Hazelden was no big deal. "On her third day here, she was walking by my office when she saw Willow. She came in, began petting her and then started to sob. Somehow, the dog made it possible for her to let down her guard. Willow made Hazelden a safe place for her to reveal her fear and pain. And finally, she began to talk."
"Willow is the best thing about this place!"
The staff hear patients say that all the time. She's soft as a stuffed animal, calm when kids need soothing and eager to play frisbee when they want to be active or let off steam. And when kids feel pain, homesickness or loneliness, having Willow there to cuddle makes all the difference.
Jeannine would dearly love to see another certified, animal-assisted programming dog added to the Spiritual Care Team. "I'm not here in the evenings, and that's often when kids need a loving friend the most. I'd love to see a night staff person get a dog."
In the meantime, Willow handles the job alone. And all she asks in return is a scratch behind the ears.
---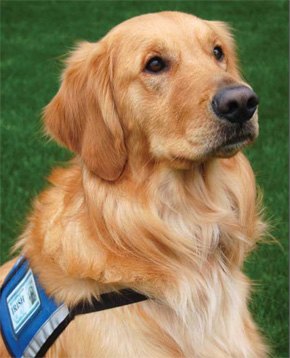 Willow Follows in Irish's Large Paw Prints
Long before Willow joined Hazelden at Plymouth, Irish--a big, soft, fluffy golden retriever--was leading the way at the Betty Ford Center in Rancho Mirage, CA. He arrived there more than six years ago, and has become one of the most familiar and beloved staff members on campus. Certified by the Foundation for Pet Provided Therapy, Irish attends group therapy, spiritual care groups, stress management groups and one-on-one sessions with patients, offering unconditional love and furry hugs.
When a patient is feeling emotional or vulnerable, Irish knows how to help. He'll go over and put his head in her lap, or his paws on her thighs. "The love, comfort and support that Irish gives patients is different from what we as humans can offer," explains Jennifer Dewey, Wellness Manager.
Irish has a playful side too--he is a dog after all! No one in yoga class can do a better "downward dog" pose. And when he struts around the gym with a towel in his mouth, you might mistake him for a big, happy, long-haired gym attendant.
---
Your support can bring another dog like Willow to the patients at Hazelden. If you would like to learn about how you can help, please go to hazelden.org/supportwillow.
The Voice, Fall 2014