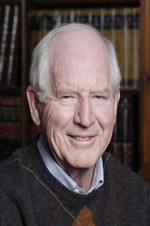 When Damian McElrath arrived at Hazelden in 1977 as a clinical pastoral trainee, he was struck by the power that Hazelden had for radically changing the course of people's lives.
Over the course of the next three decades at Hazelden, he engaged in a variety of administrative roles, the last of which was executive vice president of recovery services. Damian authored Hazelden: A Spiritual Odyssey, a history of the Hazelden Foundation, and biographies of Pat Butler and Dan Anderson, two Hazelden pioneers who were key to establishing its world renown treatment model. Throughout this time he continued to reflect upon that capacity to bring about change through the spiritual program of AA.
Returning to Jellinek as a chaplain in 2002 provided him the opportunity to reflect more seriously on how it works. That is the genesis of this volume and the completion of his dream to put in writing the power that Hazelden has and to which it must be faithful if it is to provide the milieu for change--and change is what recovery is all about.
Before coming to Hazelden, Damian spent three decades as a Franciscan priest serving the spiritual needs of others in a variety of roles including teaching, counseling, and administrative work. He was president of St. Bonaventure University from 1972 to 1976. He has published a number of scholarly books and articles on historical and theological topics.