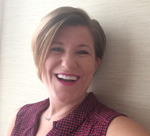 TEDx Muncy State Prison, Resiliency & Recovery
Jennifer Storm is the Victim Advocate of the Commonwealth of PA where she represents the interests of all crime victims. She currently serves on the Pennsylvania Commission on Crime and Delinquency, Victim Services Advisory Committee, PA Commission on Sentencing, Crime Victims Alliance of PA, the State Council for The Interstate Compact on Juvenile and Adult Offenders and chairs the PA Task Force on Restitution.
The author of several books, including Blackout Girl by Hazelden Publishing, and magazine articles, Ms. Storm has received numerous awards for the telling of her personal story of victimization, addiction and recovery. She has traveled the country giving keynotes, lectures, workshops, and panel discussions regarding victims' rights, LGBT rights, addiction and recovery, and civil rights.
Ms. Storm has been profiled in and interviewed for many major national media outlets including: NBC's The Today Show and Dateline, People Magazine, CNN, Rolling Stone Magazine, World News Tonight with Diane Sawyer, CBS 48 Hours Live to Tell, E! News, Washington Post, Business Weekly, USA Today and many more.
Author Home Page: http://www.jenniferstorm.com