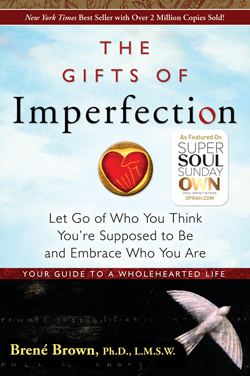 Author: Brené Brown, Ph.D., L.M.S.W.
The Gifts of Imperfection
Price: $14.95

Online Price: $13.45

This New York Times best seller by Brene Brown, Ph.D., L.M.S.W., a leading expert on shame, blends original research with honest storytelling and helps readers move from "What will people think?" to "I am enough."
When our embarrassments and fears lie, we often listen to them anyway. They thwart our gratitude, acceptance, and compassion—our goodness. They insist, "I am not worthy." But we are worthy—of self-discovery, personal growth, and boundless love. With Brené Brown's game-changing New York Times best-seller The Gifts of Imperfection—which has sold more than 2 million copies and has been translated in more than 30 different languages, and Forbes recently named one of the "Five Books That Will Actually Change Your Outlook On Life"--we find courage to overcome paralyzing fear and self-consciousness, strengthening our connection to the world.
This book is a motivational and inspiring guide to wholehearted living, rather than just the average self-help book. With this groundbreaking work, Brené Brown, Ph.D., bolsters the self-esteem and personal development process through her characteristic heartfelt, honest storytelling. With original research and plenty of encouragement, she explores the psychology of releasing our definitions of an "imperfect" life and embracing living authentically. Brown's "ten guideposts" are benchmarks for authenticity that can help anyone establish a practice for a life of honest beauty--a perfectly imperfect life. Now more than ever, we all need to cultivate feelings of self-worth, as well as acceptance and love for ourselves. In a world where insults, criticisms, and fears are spread too generously alongside messages of unrealistic beauty, attainment, and expectation, we look for ways to "dig deep" and find truth and gratitude in our lives. A new way forward means we can't hold on too tightly to our own self-defeating thoughts or the displaced pain in our world. Instead, we can embrace the imperfection.
Reviews:
"This important book is about the lifelong journey from 'What will people think?' to 'I am enough.' Brown's unique ability to blend original research with honest storytelling makes reading
The Gifts of Imperfection
like having a long, uplifting conversation with a very wise friend who offers compassion, wisdom, and great advice." —Harriet Lerner,
New York Times
best-selling author of
The Dance of Anger
and
The Dance of Connection
"Brené Brown courageously tackles the dark emotions that get in the way of leading a fuller life; read this book and let some of that courage rub off on you." —Daniel H. Pink,
New York Times
best-selling author of
A Whole New Mind
Also available as an eBook – available to purchase from your favorite eBook retailer.
Item: 2545
ISBN-13: 9781592858491
Publisher: Hazelden
Published Year: 2010