"Why does doing this have to be so hard?" I asked a friend one day.
"It doesn't," he said.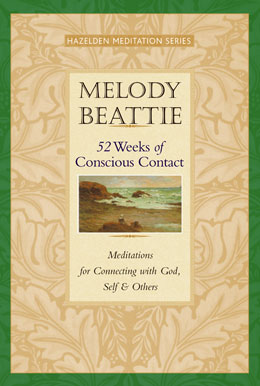 Other titles you may like.

The Language of Letting Go


Beyond Codependency


The Grief Club
Visit Recovery Road to view and listen to all the episodes.
Episode 53 -- October 15, 2020
Easy Does It: Finding Serenity in Upheaval
Melody Beattie wrote 52 Weeks of Conscious Contact: Meditations for Connecting with God, Self, and Others to help us remove what's in the way of our serenity. In times like these, we have even more than just everyday distractions, obligations, and frustrations that cause chaos and clutter. So what do we do? Here, we give you Week 18 where Melody walks us through the concept "easy does it." There's no better way to walk through recovery—challenges and all—than one step at a time.
Listen to this once, all together, then listen to each day's section each day this week for a daily reminder. See how it goes. And remember: Easy does it.
This excerpt is from 52 Weeks of Conscious Contact by Melody Beattie and has been edited for brevity.
Day 1
So, you surrendered. You let go. Now you're ready to face a particular challenge. So you hunker down and garner all your forces. And you hit the wall again.
"What's wrong?" you may ask. "I'm doing all the spiritual things I'm supposed to do. And things still aren't working. I can't get anywhere."
Did you ever try to get a key to unlock a door, and you tried and tried, and the key just wouldn't open it? The harder you tried, the more frustrated you became. So you stopped trying for a while, relaxed, and tried again. Voilà. The key fit perfectly and the slightest turn unlocked the door.
Many of us live our lives that way. While some people may not try at all, we may be trying too hard. There's a gentler way of being in the world, of trying things, doing things, going about our business.
Whether I'm tackling a specific project, enjoying a new relationship, or grinding through some miserable situation, my first inclination is to force myself and try too hard. If one cup of tea tastes good, I'll drink five. If I want to express love or concern for someone, I'll overdo it.
"If it's worth doing, it's worth doing well," doesn't mean if it's worth doing, try harder and harder. Doing it well means relaxing and letting the actions unfold-- gently, naturally, without force. We don't have to make things happen. We can learn to take our part in letting them happen. It is really okay to ease up a little. We don't have to think that hard, try that hard, feel that hard, do quite so much. Pull back a little. Relax.
When force and trying harder doesn't do it, try something else.
Value: "Easy does it" is the value this week.
Day 2
It's an old saying from Alcoholics Anonymous, and you may have seen it on the bumper sticker of a car: "Easy does it." It's also an ancient Buddhist value. And it's one of the points found in Winnie-the-Pooh stories. There's a natural order, rhythm, and movement to the flow of life. We can't tap into it when we're trying too hard. The trick is relaxing and allowing that flow to find and include us.
Application: Whenever we're trying harder and accomplishing less, it may be time to ease up.
Day 3
"Why does doing this have to be so hard?" I asked a friend one day.
"It doesn't," he said.
Challenge: Unquestionably, life can be tough and challenging at times. It hurts. It can be scary and confusing. Many of us have had to garner great amounts of strength and courage to face difficult situations. There are times when endurance and rising to the occasion are important survival skills. It's equally important to know when an easy-does-it approach is enough.
Day 4
Are you scared that if you don't try harder it won't get done? Do you struggle with the extremes of not trying at all and trying too hard?
Inventory Focus: Are you trying to force something to happen? Is that working out well for you? Instead of believing that you have to make it happen all by yourself, by the sheer exertion of strength and will, try to relax and gently ease into it. Try to trust that things will work out well, that you're not alone, and that you're part of a greater plan. Are you willing to try that, instead of trying harder? Sometimes when things don't work out, it's because you're trying to do the wrong thing. Other times, it's because you're doing the right thing, but trying too hard. You won't know which approach is best until you step back.
Day 5
Don't make it happen. Let it unfold.
Action: Stop. Restrain yourself. Relax. Now try again--gently. Stop as often as you need to, whether it's in a conversation, going through your day, or working on a project. There are times when less really is more.
Day 6
I watched a friend set up beach chairs and an umbrella. He was grunting, groaning, trying with all his might to accomplish a simple task. After he finished, he looked around and clapped the sand off his hands.
"I'm pretty dumb," he said. "It didn't have to be that hard or that much work."
Yes, life really can be easier. Relaxing and letting it unfold can seem too simple and easy at times. What if we really knew that it was okay to gently go about our lives, living and working and handling things at a relaxed pace? What if we knew it was okay to gently take care of ourselves, and that a force would be present to guide us and help us accomplish each task, each problem, in fact, all the parts of our lives?
Life experience truly has taught me that when I relax, I am so much more capable of experiencing great happiness as well as simple joys. Things get done, problems get solved, and my needs get met.
Gratitude Focus: We can be grateful for all the situations that teach and remind us that "easy does it" works.
Day 7
If we've prayed for knowledge of God's Will for us and the power to carry that out, then relax. Trust that power. We don't have to do it by force or on our own.
Prayer: Help me let go of my fears and anxieties. Teach me that relaxing--an easy-does-it approach--is the way to serenity
For 51 more weeks of material, look for 52 Weeks of Conscious Contact by Melody Beattie.
About the Author:
In addiction and recovery circles, Melody Beattie is a household name. She is the best-selling author of numerous books, including Codependent No More, Beyond Codependency, The Language of Letting Go, More Language of Letting Go, and 52 Weeks of Conscious Contact. Her first book, Codependent No More, was published by Hazelden in 1986.
Melody's compassionate and insightful look into codependency--the concept of losing oneself in the name of helping another--struck a universal chord among families struggling with a loved one's addiction. Twenty years later, the concepts continue to ring true for millions worldwide, as the book has sold more than four million copies and has been translated into more than a dozen languages.
Melody currently has 13 titles with Hazelden and several more with other publishers. One of Melody's more recent titles with Hazelden is, The Grief Club, which was published in 2006. This inspirational book gives the reader an inside look at the miraculous phenomenon that occurs after loss--the being welcomed into a new "club" of sorts, a circle of people who have lived through similar grief and pain, whether it be the loss of a child, a spouse, a career, or even one's youth.
© 1986, 1992 by Hazelden Foundation
All rights reserved