"When trauma becomes part of our core being, we may subconsciously develop defensive strategies meant to protect us from pain."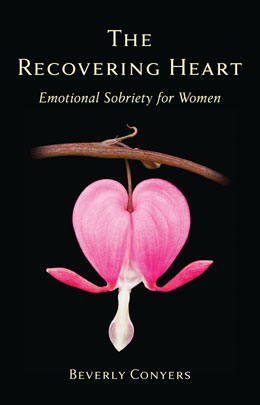 Other titles you may like.


Find Your Light


Everything Changes: Help for Families
of Newly Recovering Addicts


Each Day a New Beginning:
Daily Meditations for Women
Visit Recovery Road to view and
listen to all the episodes.
Episode 164 -- November 8, 2021
Don't Go Away: Coping with and Healing from Trauma
What is trauma? Although all trauma doesn't look the same, in general it is a deep emotional wound caused by an event in which we feel overwhelmed, fearful, and helpless. For some of us, trauma may have led to our dependence on substances. For others, our addictions may have caused trauma. And, unfortunately, we may continue to experience more traumatic events even as we begin our new lives in recovery. What do we do? How do we cope?
In her book The Recovering Heart: Emotional Sobriety for Women, Beverly Conyers provides guidance on achieving emotional sobriety and self-acceptance. This excerpt can help us understand the various ways that trauma may affect our emotions and impact our lives. We learn about the stages of coping with trauma, how memories of our trauma can be triggered, and how some of us do not find healing but instead absorb the trauma into our core being—which distorts our view of the world and affects our daily experiences.
Whether we are in recovery or not, our lives can be touched by trauma in ways big or small. Often, we may not fully understand the impact of the harmful experiences we have endured. This excerpt explores how shutting down or developing behavioral addictions—two strategies we may use in an effort to protect ourselves from the pain of trauma—can actually keep us stuck in our trauma. It also explains how talk therapy can help us find freedom.
This excerpt has been edited for brevity.
How Self-Defense Becomes Self-Harm
For people with a relatively healthy sense of self, coping with trauma typically unfolds in three stages: protest, numbing, and mourning. At first, we may express anger, become verbally abusive, or act out in self-destructive or hostile ways. In this protest phase, our moods may swing widely, and we may be unusually irritable and short-tempered. Then comes numbing, a deadening of our emotions and a feeling of disconnectedness. We may withdraw from our environment and isolate ourselves from others. Finally, we may need to mourn. Whatever the cause of our trauma, we have lost something precious—our sense of the world as a safe place—and we must grieve our loss.
These reactions can last from a few days to many months as our mind processes the trauma. Gradually, the impact of the traumatic event fades. But trauma victims often feel painful emotions from time to time long after the event, especially when something—a sound, a smell, an anniversary date—reminds them of what happened.
For many of us, however, the healing process isn't a matter of days or months. In fact, the trauma is not healed at all. Instead, we absorb it into our psyche, where it merges with our core sense of self. We view everything and everyone through the distorting lens of trauma.
We may pretend that it isn't there or that it no longer hurts. We may tell ourselves that we're over it. But trauma stays deep in our subconscious, where it becomes a festering source of damaging thoughts and painful emotions. If we look back at the traumatic episode and consider its impact, we may see two selves: the person we were before it happened, and the fearful, shame-filled person we became afterwards.
When trauma becomes part of our core being, we may subconsciously develop defensive strategies meant to protect us from pain. But in fact, these strategies keep us stuck in the trauma. Let's look at two broad types of defensive strategies: shutting down and behavioral addictions.
Shutting Down
We shut down when we build walls around ourselves that keep us from connecting with other people in meaningful ways. As women, we tend to experience the world emotionally, and interpersonal relationships are key to our sense of well-being. But when we've been traumatized, we may find ourselves unable to let others get close to us. We may choose the safety of isolation over the risk of vulnerability.
I, myself, became an expert at building walls. Shamed and hurt by my peers' rejection, I believed that something was basically wrong with me and that nobody would ever like me. To avoid the pain of further rejection, I became a loner. As a young adult I avoided social situations, ignored any overtures of friendship, buried my nose in a book in the lunchroom at work, and went on long walks by myself for recreation. That way, I never had to risk re-experiencing my most painful memories: the anguish of walking through the schoolyard and being spit on, the humiliation of my surprise tenth birthday party to which nobody came, the devastation of walking into a school cafeteria and freezing in the face of thundering jeers.
The invisible wall I built around myself made me lonely and sad, but it was my defense against the even greater pain of rejection and shame. Other women may shut down in less obvious ways. Some may adopt an attitude of rigid independence—"I don't need anyone! I can do it all myself." Others may keep their romantic partner and friends at an emotional distance.
One woman in a Twelve Step meeting told the group, "I wouldn't let anyone know the real me. I didn't even know who the real me was. So I was always faking it. I was always trying to be what I thought people wanted me to be. I thought if I tried to act like them, they'd accept me, but if they knew the real me they wouldn't like me. So I was acting all the time."
Building genuine relationships requires us to be vulnerable, to risk exposing our inner world, flaws and all. When we shut down, we can't fully experience the healing power of connection because we're so afraid of getting hurt that we never let anyone close to us. Our relationships, such as they are, are built on a foundation of pretense and mistrust.
Behavioral Addictions
Also called process addictions, behavioral addictions offer another way to avoid the pain of our unhealed trauma: we compulsively behave certain ways despite serious negative consequences to our well-being. The many areas of potential behavioral addictions include food (starving or bingeing), sex, gambling, shopping, shoplifting, pornography, video games, work, exercise, Internet surfing, and cutting.
Whatever the addiction, the behavior helps us escape our inner turmoil first, by distracting us from our core pain, and second, by triggering the release of pleasure-producing chemicals in our brain. The brain's reward center—a circuit of chemical messengers and electrical impulses—gives us the ability to feel happiness. When we eat a good meal, have satisfying sex, or engage in other fulfilling activities, our reward center releases dopamine, endorphins, and other neurotransmitter chemicals that carry messages of pleasure, calm, and euphoria. (The brain also has neurotransmitters for messages of pain, fear, anger, and so on.) The chemical messengers then connect with targeted receptors in the brain that fire off a pleasurable sensation.
From an evolutionary viewpoint, our reward center promotes behaviors that help our species survive (eating, procreating, and social bonding). It also eases physical suffering. When we talk of a "runner's high" or "endorphin rush," we are referring to the feeling of well-being and exhilaration that can follow an episode of pain, danger, or stress. Most of us who have experienced the ordeal of childbirth, for example, have also felt the profound well-being that floods our body soon afterward.
Unfortunately, our brain releases its "feel-good" chemicals even when we take healthy behaviors to unhealthy extremes, or we endanger ourselves through high-risk activities such as gambling, shoplifting, or promiscuous sex. Our body's own chemicals reinforce the compulsive behaviors intended to distract us from our core pain.
And that's the point of behavioral addictions—they make us feel better by taking our attention away from our inner pain and triggering the release of soothing chemicals in our brain. But ultimately, even that brief relief further damages our already battered sense of self when we feel the shame and despair of not being able to control our destructive behaviors.
That's why "talk therapy" is so important in healing the damage of childhood trauma. When we talk about our trauma in the safe setting of a therapeutic relationship, we begin to bring it out of our subconscious memory. We start to think about it in new ways, to see it as an episode with a beginning, middle, and end—as something that happened to us, rather than something that is us. And we begin to understand ourselves not as the helpless child we were, but as a maturing adult who is free to make choices about how we conduct our life.
About the Author:
Beverly Conyers began writing about addiction in response to her daughter's struggles with substance abuse. The author of Addict in the Family: Stories of Loss, Hope, and Recovery and Everything Changes: Help for Families of Newly Recovering Addicts, she lives in Massachusetts, where she teaches in a community college. She continues to learn about addiction and recovery and increasingly focuses on spiritual growth.
© 2013 by Hazelden Foundation
All rights reserved