"The party will go on without you. Don't put your recovery in jeopardy by going to a 'slippery place.'"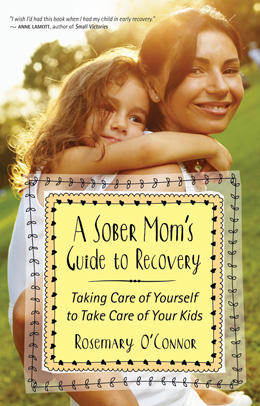 Other titles you may like.


A Woman's Way through the Twelve Steps


The Recovering Heart


Each Day a New Beginning
Visit Recovery Road to view and listen to all the episodes.
Episode 69 -- December 10, 2020
Sober Mom's Tools for Surviving the Holidays
The year 2020 has refused to slow down much. Many of us are running ourselves ragged these days—especially parents or caregivers. And here come the holidays. "Sober Mom" and author Rosemary O'Connor offers some hard-won and very timely assistance and advice for parents in recovery. In this excerpt from her book, A Sober Mom's Guide to Recovery: Taking Care of Yourself to Take Care of Your Kids, O'Connor charts a path through the holidays that can help you stay sane and sober, avoid mistakes and missteps, and even enjoy some peace with yourself and your family.
It has been edited for brevity.
Ho, Ho, Ho, and the Not-So-Merry Holidays
Good news: The holidays are about family. Bad news: It's your own family.
—Bumper sticker
Bells are ringing, chestnuts are roasting, Santa's on his way, and you smile to all passersby, saying "Happy holidays!" when really you want to vomit up fruitcake.
The holidays can be so stressful. The shopping, traffic, lines at the stores, events at work and school can turn the Hallmark holiday into Hallmark hell. Money can be tight, and your kids want the newest gizmo that costs three times your gift budget. And to top it off, there is alcohol everywhere you look. When we were drinking or using we could be counted on to throw a wrench into a holiday gathering—yep, we were capable of being the Grinch. A Tim Whyatt cartoon says, "Every family has one weird relative, and if you don't know who it is, then it's probably you." Having an active addict in the family is like having a ticking time bomb; you know it's going to go off but you don't know when.
In recovery, we can laugh about the holidays and some of our antics from our drinking or using days. Holiday parties are often a source of lots of laughs. Alcoholic or drugs + party = disaster! So many of us have been completely inappropriate and humiliated ourselves while drunk or high at the office or neighborhood party. I remember one AA member's story about her company's evening holiday party. Drunk by ten-thirty, she told her boss "how she honestly felt about him." By midnight she was making out with a married man in a coat closet. It was a three-ring circus. Needless to say, the mood in her office on Monday morning was frosty.
Yep, while drinking or using we were evil little elves. It was a cinch for us to do absolutely the wrong thing, with the wrong people, at the wrong time—and we may have even lost our clothes, our jobs, or our neighborhood friends in the process.
I got sober November 13, 1999. I was separated from my then husband. Our children were two, five, and eight years old. Within the next six weeks, I had to face Thanksgiving, my daughter's birthday, my son's birthday, Christmas Eve, Christmas Day, and the new millennium! I prayed that the holidays would just be over with. How the hell am I not going to drink through all of this? I wondered. In the end, I did stay sober through this first holiday season by taking it one day at a time, just like every other day I was sober. Actually most days were one hour at a time. I also went to a lot of AA meetings and listened to people share their fears about being with family, going to parties where alcohol was being served, and surviving the loneliness and stress of the holidays.
The most difficult holiday for me that year was Christmas. It had always been my favorite holiday. But this year, I had been sober for only forty-three days. Although we were separated, my husband and I had planned to spend Christmas morning together at my house with the children. It wasn't the cheerful Christmas morning I was used to, with the kids jumping on my husband and me in bed, waking us to tell us Santa had brought them lots of presents. Instead, my kids came running into my bedroom to see me sleeping alone. I had to call their daddy to let him know the kids were up and he could hurry on over. I tried to keep our kids patient and wait to open presents until their dad showed up. My eight-year-old said, "This sucks. Why didn't daddy just stay here last night?" All I could say was, "Hang on, he'll be here in a minute." I tried to hide my wrenching pain—the guilt and anger I felt that my kids had also been affected by my drinking. I did what my sponsor had suggested and just tried to focus on my kids.
In recovery, I learned invaluable tools to get me through such challenging times, experiences I didn't even know I would be facing. In the rooms of AA, I heard suggestions on what to do and what not to do to survive the holidays. And when the time came to use those suggestions, I thought those people in AA were brilliant.
Here are some tips I've found most helpful for surviving holiday gatherings without drinking, using, or going loco.
Most important, say to yourself, My sobriety comes first, even before Santa Claus, relatives, or my job. We think we are obligated to go wherever we are invited, but in recovery we learn that we need to take care of ourselves first and foremost. So don't go to all the parties where alcohol will be served or people will be high! The party will go on without you. Don't put your recovery in jeopardy by going to a "slippery place." If you really must go a holiday event, take a sober friend with you. And plan your transportation so you can leave if you feel shaky; then immediately call your sponsor or go to a meeting. It helps to be with our sober tribe when we are feeling vulnerable. At parties, always have a glass of juice or soda in your hand, so people won't be offering you drinks. If someone insists you have an alcoholic beverage, tell them you are the designated driver, or that you're allergic to alcohol, or if you're comfortable revealing it to this person, just say that you are in recovery. It often helps to keep busy; the hostess will love you if you help serve or clean. If at any time you feel like you are going to drink, leave the party ASAP.
What not to do at the holiday gatherings: Do not try to Twelve Step anyone who may be enjoying a glass or two. When someone asks if you would like a drink, don't feel you have to tell them you are an alcoholic and recite your entire "drunkalog." It's none of their business, unless it happens to be someone you trust and feel comfortable revealing this with. Remember: boundaries! Keep your sense of humor; thank God that today you won't be sleeping with your boss's husband and get run out of town!
Of course, as mothers in recovery we want to make the dream holiday for our family. We may even try to make up for all the holidays that were not so good. But these efforts can get us into trouble. With the help of our sponsors and friends, we can learn how to take it easy, not put so much stress on ourselves, and still enjoy our holidays while sober.
When I was drinking, I'd throw extravagant parties, spending money we didn't have, making sure the house looked like a showplace from Better Homes and Gardens magazine, the entire family outfitted in picture-perfect clothes. Of course I also had to make sure we had plenty of alcohol in stock. By the end of the night, I was always a screaming mess.?And the next day, the house was in shambles and so was I.
In sobriety, I have created new traditions. When the children were small, we'd decorate a gingerbread house together. I'd invite my best friend to come over with her two boys, and we'd play games, charades, Jesters, and Pictionary. Everyone laughed all night and we all looked forward to the gathering all year. One year the kids and I bought a bunch of hats and scarves and handed them out to homeless people; besides helping others, the kids got to see how good they have it. Enjoying the holidays with your children (and enjoying the child in yourself) is probably the best way to get a safe holiday high.
A coaching client of mine, Emily, was dreading the holidays. She had lost custody of her children and thought she would never survive her first holiday sober. The pain, shame, and loneliness she felt were almost overwhelming. She shared these feelings at her women's meeting, and afterward other women came up to her and embraced her with love and hope. She met other women who were in similar situations and they decided to stick together during this hard time. They checked in on each other and went to the local AA marathon meetings called Alcathons, held in some cities. These twenty-four-hour events have saved many an addict during the holidays. Typically an Alcathon starts at noon on the day before the holiday: Thanksgiving, Christmas Day, and New Year's Day. Meetings often start every hour continuously until the next day at noon. Emily said being with people in recovery saved her at these times, and she made herself useful by making coffee and taking care of the refreshment table.
When I was working at a recovery center, a woman called right before the holidays and asked to make a reservation for her husband to come in for treatment on January 2. She said they had too many family dinners and celebrations planned for him to stop drinking before then. I asked, "Ma'am, how was your holiday last year?" She gasped and said, "Oh, I see; he'd better come in right now."
We all tend to romanticize the past and forget just how bad it was. This holiday season, give yourself and your children the best present you'll ever get—the grace of being sober.
Sober Mom's Tools for Surviving the Holidays
Put your sobriety first. Do what you need to do to stay sane and sober. Call other sober women and go to lots of meetings. Don't put unreasonable expectations on yourself. Your children will enjoy any holiday when their mom is sober and focused on them.
Practice an attitude of gratitude. Be thankful for the small things: that you woke up sober, that you have another day to experience the grace of being a new you. Today you are part of the solution instead of part of the problem.
Practice a spirit of giving. Do a good deed without getting found out: perhaps leave a present for an elderly neighbor, adopt a family, or simply make cookies and take them to your favorite AA meeting.
Remember, it's just another day. Root for midnight, go to bed, and tell yourself you can drink tomorrow. My experience tells me you will wake up grateful you did not drink yesterday.
About the Author:
Rosemary O'Connor, a leading expert and spokesperson on women, children, and addiction, is the founder of ROC Recovery Services, a certified addiction coach, and a sober mother to three awesome adult children. O'Connor shares her expertise in the Hazelden Publishing title A Sober Mom's Guide to Recovery.
© 2015 by Rosemary O'Connor
All rights reserved