"For many grandparents in this role, becoming a parent again was a jaw-dropping shock."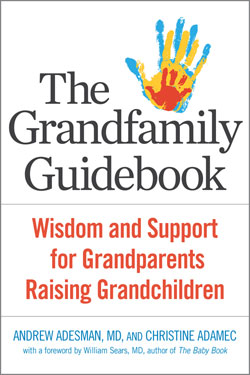 Other titles you may like.


Tending Dandelions


Addict in the Family

Take Good Care
Visit Recovery Road to view and listen to all the episodes.
Episode 3 -- May 12, 2020
Identifying Emotions: When Life Turns a Grandparent into a Parent
The COVID-19 pandemic is turning everyone's lives upside down. For people with substance use disorders, it can make conditions worse, and use might be heavier. It can make seeking help more difficult. Grandparents may need to step in and care for grandchildren, if their adult children are struggling. It might be for a little while, the duration of the pandemic, or longer. It might be permanent. This is where The Grandfamily Guidebook: Wisdom and Support for Grandparents Raising Grandchildren, by Andrew Adesman and Christine Ademec, is helpful. In their chapter "From Shock to Joy--and Everything in Between," here are some feelings you might be able to identify in yourself and your own life. It has been edited for brevity.
Your life, as you knew it, is not completely over, but it's drastically different now that you have a grandfamily. For many grandparents in this role, becoming a parent again was a jaw-dropping shock; for others, it might have seemed inevitable because of their adult children's parenting problems, whether due to substance use, incarceration, child neglect, or something else.
Either way, your life may suddenly feel like an emotional battleground--especially when you're new to the role. Over time, you will adjust to this "new normal," but new feelings emerge as the children grow up and as you age too. So let's talk about identifying and dealing with these emotions and when to seek help from others.
Notice Your Feelings: Some Common Emotions
Grandparents describe a dizzying range of feelings as they take on the role of parenting again, sometimes decades after raising their own children. With so many stressors at the same time, they may feel many emotions. Relief, for the children's sake, but also shock and role confusion as their own lives are upended. Over time, they may feel not only depression, loneliness, and isolation but also periods of great joy and satisfaction.
Relief: The Child Is Finally Safe
You may have been worrying and mentally wringing your hands over potentially dangerous (or certainly dangerous) situations that your grandchild has been facing, such as being alone with parents who are abusing alcohol or other drugs or who are mentally ill and untreated and therefore unpredictable. Despite the challenges of forming a grandfamily, many people report experiencing profound relief when a grandchild comes to live with them, because now they know the child is safe.
Shock: You're a Parent Again
Surprise! For many grandparents, shock is an initial response to becoming a parent again. These grandparents didn't realize that as parents their adult children were inadequate or worse: abusive, neglectful, or dangerous. Maybe the birth parents lived far away or didn't visit for a variety of reasons. Perhaps they discouraged the grandparents from visiting them, knowing that if the grandparents had entered the home, they'd have been shocked by the chaotic environment and the dirty child and called them on it. But even if your grandchild came from a safer setting, the swiftness of the transfer can be a shock to your system.
Depression: When Your Spirit Feels Drained
Some research studies show that depressive symptoms are more likely for parenting grandparents than for "traditional" grandparents, who can spoil the children and send them home. But the researchers also found some good news: the situation often improves over time. After acting as parents for five or more years, grandparents were significantly less likely to be depressed than those who were newer to the role. Why? The researchers speculated that as the crisis recedes and routines become more settled, the stress eases for everyone. And, as children grow from infant to toddler to school-age, the job of caring for them gradually becomes less demanding.
Loneliness and Isolation
Many parenting grandparents report feeling like they're the only individuals who are in this situation, and this perception could lead to feelings of loneliness and isolation. In the Adesman Grandfamily Study, most of the grandparents (69 percent) said they strongly or somewhat agreed with this statement: "I am less able to socialize with friends because I am raising my grandchild." Parenting your grandchildren limits your free time, and sometimes your former friends and relatives don't want to deal with a crying baby or an active small child.
Joy in Raising Your Grandchild
Of course, there are many positive emotions associated with parenting your grandchildren. Relief is one of the already discussed positive emotions, but here are a few more related to the joys of parenting:
The love you and your grandchild feel for each other. Parenting is an opportunity to give and receive an enormous amount of love and affection. Depending on how old the children are when they come to you and their past experiences, it may take time to develop a bond. But when it does, it's a wonderful feeling.
The joy of seeing your grandchild achieve new milestones. Exceptional talent is not required. What matters is that the child is mastering skills that previously were too difficult and you share that joy with your grandchild.
The fun you enjoy together. Children enjoy life much of the time, and they can be wonderful companions.
Stressing Out: Can You Really Handle Parenting?
Stress is common among parenting grandparents, particularly in the first year or so as the situation evolves and your routines change. Sure, you've been a parent before, but now you're in new territory. It'll take time to work out how you adapt.
Anger and Resentment: Why Can't the Birth Parents Raise Their Own Kids?
Often grandparents feel angry and resentful that they "have to" take over parenting their grandchildren. They may feel like they have earned their retirement, and how dare their adult children do such a poor job of parenting that someone else must take over! They often believed their parenting days were over or should be. And now they think it isn't "fair" they must spend years, sometimes the rest of their lives, being hands-on parents again.
Needless Guilt
Many grandparents report experiencing feelings of guilt over how their adult children have turned out, whether the problem is drug or alcohol use, criminal behavior, or other dangerous habits that have prevented them from being good parents. But unless you were criminally abusive or neglectful to your children as kids--and if you were, you probably wouldn't be parenting the grandchildren¿then your adult child's parenting problems are not your fault.
Anxiety and Worry about the Future
Anxiety and worry are common--probably even universal--feelings among parenting grandparents. If you're older or have health problems, you may worry about your capacity to provide for the long haul. If you don't have permanent custody, you might worry about that. And you may be anxious about the long-term effects of past abuse and neglect on your grandchildren. These worries are normal. This job is demanding, and you need support. Grief, shock, and a massive lifestyle adjustment that may also seem ambiguous--who wouldn't be anxious in your position? So first, an invitation: even if you've never sought professional help for anxiety or any other persistent mood problems, please consider it now. It doesn't reflect poorly on you. Quite the opposite--it takes wisdom and self-knowledge to realize you need more support.
About the Authors:
Dr. Andrew Adesman is a nationally recognized pediatrician with expertise in the areas of parenting and child development. He is a professor of pediatrics at the Donald and Barbara Zucker School of Medicine at Hofstra/Northwell. He also serves as chief of the Division of Developmental and Behavioral Pediatrics at the Steven & Alexandra Cohen Children's Medical Center of New York. The author of the trusted book Baby Facts, in 2016 Adesman completed the largest nationwide study of grandparents serving as parents.
Christine Adamec is a self-help, health, and wellness writer who has coauthored more than 40 books, including When Your Adult Child Breaks Your Heart; The A-Z of Phobias, Fears, and Anxieties; and Fibromyalgia for Dummies. She and her husband are now raising a grandchild.
This is the second book from coauthors Adesman and Adamec; they previously worked together on Parenting Your Adopted Child.
© 2018 by the authors Andrew Adesman, MD, and Christine Adamec
All rights reserved.