Discover a path to freedom with A New Direction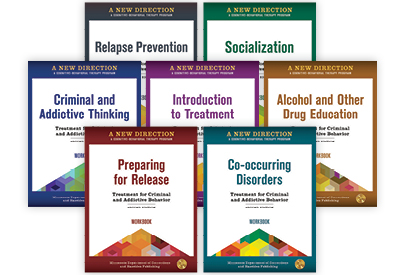 Justice-involved clients with substance use disorders can find hope and reduce their risk of relapse and recidivism with A New Direction—a flexible, evidence-based program that guides participants into recovery from substance use disorders and desistance from crime. Created in partnership with the Minnesota Department of Corrections, the curriculum uses cognitive-behavioral therapy (CBT) and other evidence-based practices proven to avert unhealthy thought patterns and maintain long-term success within criminal justice populations.
Updated and revised
This best-selling curriculum was revised and expanded using input from a team of high-performing, experienced clinicians. A modular design makes it easy to customize treatment plans and target each client's specific needs. Seven topics offer a comprehensive program adaptable to a variety of criminal justice settings:
Introduction to Treatment
Criminal and Addictive Thinking
Alcohol and Other Drug Education
Socialization
Co-occurring Disorders
Relapse Prevention
Preparing for Release
There is an easy-to-read corresponding participant workbook and new companion video for each module. A separate facilitator guide provides direction on program implementation and administration.

Demonstrated results
Several studies have been conducted to measure the effects substance abuse treatment has on offenders. Compared to untreated offenders, justice-involved clients who participated in A New Direction or a similar treatment program demonstrated:
Reduced relapse rates

Reduced recidivism rates

Greater recovery meeting attendance

Healthier thought patterns
In addition, facilities that implemented the program saved money in jail costs. Read more.
A New Direction



A Cognitive-Behavioral Treatment curriculum
Each collection includes 100 workbooks, a companion DVD, facilitator guide, and flash drive containing reproducible materials and a variety of quality assurance tools.

The workbooks
Workbooks use a strengths-based instructional approach with inclusive language and Grade 6 readability. Each contains quick review exercises to reinforce lessons, reflection exercises that bridge content with real-life experience, and Thinking Reports to ensure treatment methods are part of ongoing aftercare. Spanish workbooks will be available early 2020.
The facilitator guide
A comprehensive facilitator guide and accompanying video include best practice recommendations from skilled clinicians, practical session guidelines for group delivery, and an index for easy reference. An accompanying USB flash drive contains outcome measurement tools, participant progress reports, fidelity checklists, and more.
The videos
Twenty-minute companion videos for each module correspond to workbook content and can be used in group treatment, psychoeducational lectures, and other therapeutic settings. The videos contain inspiring success stories from program participants and insight from licensed counselors familiar with the program. Videos include closed captions and Spanish subtitles.

Training
We offer customized training options that assess site-specific needs and help prepare for seamless program implementation. For more information about training options uniquely suited to your organizational needs, contact your sales associate at 800-328-9000.