About Melody Beattie
Melody Beattie is one of America's most beloved self-help authors and is a household name in addiction and recovery circles.




Introducing the world to the term "codependency" in 1986, Melody Beattie's Codependent No More continually grew in popularity, eventually being named one of the four best self-help books of all time by Dr. Drew Pinsky in Newsweek magazine. Millions have found--and continue to find--inspiration and encouragement through her powerful wisdom and guidance.
Introducing the Codependency Collection by Melody Beattie
"Melody Beattie is an American phenomenon…She understands being overboard, which helps her throw best-selling lifelines to those still adrift."
–TIME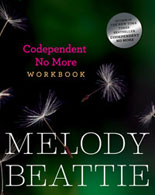 Codependent No More Workbook
With the publication of Codependent No More Workbook Beattie responds to the demand of her millions of Codependent No More fans, and reaches out to those who may not yet even understand the meaning and impact of their codependency. Through hands-on guided journaling, exercises, and self-tests, readers will learn to integrate the time-tested concepts outlined in Codependent No More into their daily lives by setting and enforcing healthy limits, developing a support system through healthy relationships with others and a higher power, experiencing love and forgiveness, and letting go and detaching from others' harmful behaviors.


Codependent No More
The 25th Anniversary Edition
This special 25th anniversary edition of Codependent No More, the New York Times best seller that has sold more than five million copies in the U.S. alone, features a fresh preface by Beattie. This compassionate and insightful look into codependency—the concept of losing oneself in the name of helping another—has struck a universal chord among those struggling with a loved one's selfdestructive behavior.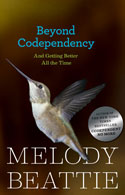 Beyond Codependency
For those learning to live free of the grip of someone else's problems, Beattie's top-selling Beyond Codependency offers guidance and insight on mastering the art of self-care. In simple, straightforward terms, Beattie helps readers navigate the territory beyond codependency, in the realm of self-love and emotional maturity. With personal stories, hard-won insights, and activities, she teaches readers to deal with shame, grow in self-esteem, overcome deprivation, and get beyond fatal attractions to find relationships that work.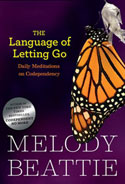 The Language of Letting Go
In this best-selling meditation book, Beattie evolves the experiences and expertise that she boldly shared in Codependent No More into 366 moving reflections and prayers that guide readers through each day of the year. Beattie's wise and intimate meditations remind readers that the best way to heal and grow is to take responsibility for their own pain and self-care.
More Language of Letting Go
In her characteristically direct, unsentimental style, Beattie distills compassionate insights on how best to nurture spiritual and emotional connections. Here she offers a fresh set of 366 profound and beautifully articulated thoughts, one for each day of the year, on topics ranging from trust in the future to the art of gratitude. All are components of Beattie's overarching theme: letting go of codependent tendencies and cultivating healthy, balanced relationships.
Apps
Access Beattie's powerful insights anywhere, any time on your iPhone, iPad, or iPod Touch

Our apps based on More Language of Letting Go and The Language of Letting Go, the popular best-sellers by Melody Beattie, help you apply the principles from her books into your daily life.