Safe Dates
Publishing
Contact Us
Hazelden Publishing
15251 Pleasant Valley Road
P.O. Box 176 Center City, MN 55012-0176
Business hours: 8 a.m. - 4:30 p.m.
(Central Time)
Monday - Friday 800-328-9000
651-213-4200
651-213-4793 fax
email us
Safe Dates -

An Evidence-Based Program to Prevent Dating Violence
What is Dating Violence?
Dating violence encompasses more than simply physical aggression. It also includes psychological, sexual, and emotional harm in a relationship, and it can occur both in person and digitally. Unfortunately, dating violence is a relatively common issue among high school students – 21 percent of high school females and 10 percent of high school males who dated in high school reported instances of dating violence in 2015, according to the CDC.
Fortunately, there is something you can do.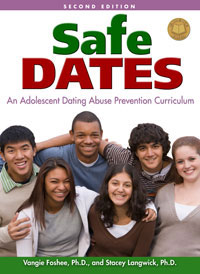 Safe Dates
An Adolescent Dating Abuse Prevention Program
Our evidence-based program, Safe Dates, is a curriculum that educates youth and adolescents on how to identify and prevent dating violence. Through ten engaging sessions, students will learn and discuss the causes of dating violence, how they can help a friend in an abusive relationship, common gender stereotypes regarding dating violence, and important prevention techniques.
Additionally, the curriculum includes:
Updated statistics and facts on dating violence and sexual assault

Information on dating abuse through technology

A CD-ROM with reproducible handouts and parent resources

A new Families for Safe Dates program to help facilitate conversations about healthy relationships and dating abuse
It's important to consider how we're educating youth on the topic of dating violence and sexual assault. Safe Dates is an effective solution, and its interactive format will help students of all backgrounds learn to embrace their voices when it comes to dating violence prevention.
Grant writing template
Hazelden's grant writing toolkits have been specifically designed to help you find the funding you need to purchase our best-selling evidence-based programs. Please email us at
training@hazeldenbettyford.org
to receive support in completing a grant application. Our team will be happy to provide resources about our products and programs that will help you prepare a strong grant application.