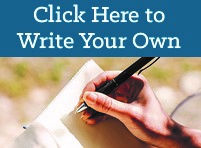 ---
Frequently Asked Questions
Why should I submit a meditation?
Carrying your message to others is positive both for you and for those who receive your message. Negative emotions, such as fear, that spring from trauma isolate us from each other. Sharing your message denies those emotions their power by defeating isolation. Few things are as powerful as the reminder that we don't have to face our traumas without help. You are not alone. Sharing your message will help others see that they are also not alone. >p
How do I submit a meditation?
Click here to go to the form where you can write your own meditation and submit it to be considered for the meditation book How We Heal: Meditations for Reclaiming Our Voices from Addiction and Sexual Trauma
Will I get paid for my submission?
This anthology is an opportunity for us to carry your message of unity, hope, and healing to a wide audience. As a non-profit, we are unable to offer monetary compensation. However, to allow you to share your message personally, if you wish, we will ship four finished copies of the book to the address you provide.
Can I submit anonymously?
In order to give us permission to publish, you need to provide your legal name. However, it will remain confidential and will not be shared publicly. When you fill out the submission form, you'll be able to choose how your name will appear on the published page with your meditation. Generally, we will list writers by their first name and first initial of last name to create a safe space. Feel free to use a nickname that doesn't match your legal name, if you'd like. If you don't want a name included, you may also write "Anonymous."
Is meditation connected to a specific religious or spiritual practice?
No. A meditation is something that people read or listen to as a way to calm their minds and bodies. Meditations are words that tell stories, give suggestions, or paint a picture. They are useful to people of all religious and spiritual affiliations, and also those who don¿t follow any organized religion.
How should I prepare my meditation?
There are three basic parts:
Title for meditation (2-10 words)
Text of meditation (100-200 words)/
Suggested intention for the day: "Today I will..." or "Next time ____ happens, I will..." or "When faced with ______, I will..." (3-25 words)
Will my meditation be edited?
We want to honor your experiences and wisdom, but please know that meditations will be edited to remove any references to specific people or places that could be legally questionable. Meditations may also be shortened in order to fit the available space.
What are some examples of meditations?
TITLE: Keep Looking
MEDITATION: When I asked for help, when I looked around for a friendly face, when I reached out for someone who understood, I kept coming up with blank stares. It was hard to find someone who knew what I was going through.
But I had to keep looking. I knew that once I found the right person to talk with, I'd be able to keep going. Someone has done this before me. I needed to start with someone who'd been where I was. I needed to start with a group of survivors. They would know where to go.
And they did.
Through them, through my group of sisters who'd also been molested, I found a therapist. And through that therapist, I found treatment for pills. And with them both, I found recovery. But I had to keep looking.
INTENTION: Today I will keep looking for the answers I need. And I will help others with their questions.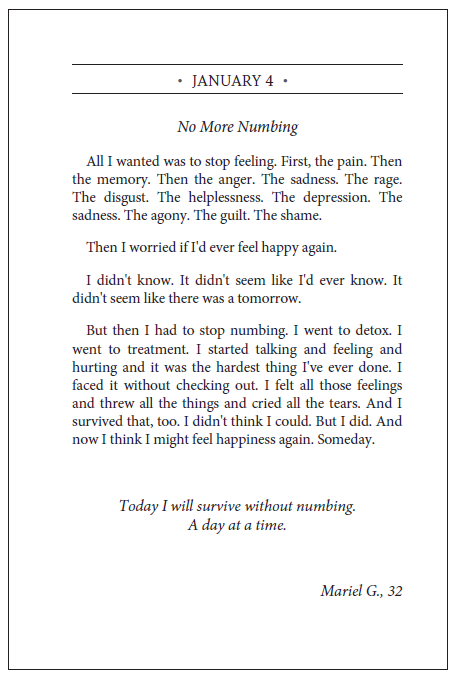 We know. It might be hard to come up with an idea of what you could say to others. Here we have some ideas for themes. As we've worked with people who are survivors of sexual trauma and in recovery for addiction to alcohol or other drugs, we've seen some common themes. Maybe you could start here:
Memory/Flashbacks How do you handle what you remember? What you don't remember? How have you coped with memories?
Triggers When you see or hear something or someone that reminds you of your trauma or your addiction, what do you do? How do you get through it?
Cravings Recovery is physical, mental, emotional, and psychological. We have cravings for so many reasons. What do you do when you face a craving?
Mental Health Trauma causes so much harm, not just physically—but also mentally. Recovering from addiction requires us to dig deep into our mental health. What helps you? How do you do it?
Justice When we talk about sexual trauma, we also have to talk about victims, survivors, perpetrators, and criminals. It brings with it so many questions about justice. In another light, we might also have to face the issue of justice if our substance use has involved breaking any laws. How have you faced the issue of justice in your recovery?
Shame and Vulnerability To heal ourselves, we have to be vulnerable. We might have to face issues of shame, something anyone can carry, but especially those of us who have been traumatized. We don't deserve shame, we didn't ask for shame, but we carry it with us. How can we? How do you? Share with us.
Love and Relationships It can be hard to trust, to feel, to love, to let others in. This is true for people who face addiction, but it's particularly true for those of us who are survivors of sexual trauma. What are your thoughts about this? How do you have or develop relationships with friends, family, and partners?
Sexual Health How have you addressed sexuality, sexual health, and aspects of sexual relationship? What can you share with others?
Spirituality Spirituality is central to recovery for many people. How do you relate your recovery to spirituality?
Personal Growth People often look to how their experiences have shaped them; how they grow because of their trauma. Have you experienced this? How have you been able to not only survive—but also thrive? What can you tell others as they look into their own futures? What can be an inspiration to them?
Support and Community Where do you find support and encouragement? How did you reach out and find help? What can your experience tell others?
Activism and Advocacy Some people, not all, find empowerment in activism. It certainly is not required as part of recovery or healing, but it can help. Have you experienced this? What have you found as you've advocated for yourself, others, or the survivor community?
What else do you want me to know?
We want to thank you. Thank you for reading this, and if you choose to submit a meditation, thank tou for sharing with us and your community. Thank you for the thought and heart you put into it. THANK YOU for your vulnerability.
If you are someone who has yet to find healing and hope, we encourage you to reach out. Here are some resources if you want to start your recovery journey.
Get Help at Hazelden Betty Ford Foundation
Learn About Trauma-Informed Care
Sign up to receive updates about submitting your meditations by filling out the form below. If you have any questions, please send them to
editorial@hazeldenbettyford.org.