Treatment OnDemand with Co-occurring Disorders Program (1-10 Clinicians)
Co-occurring Disorders
Annual Electronic Subscription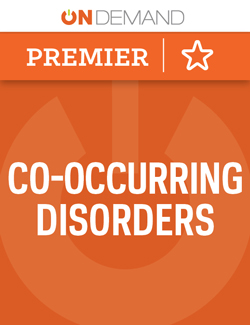 Treatment OnDemand with Co-occurring Disorders Program (1-10 Clinicians)

This single item can not be purchased online. Please call Hazelden Publishing at 800-328-9000 or 651-213-4200 (outside USA) to talk with one of our sales representatives.
We want you to be confident in your purchase. Preview a digital subscription and explore the easy-to-use platform before you buy. Request a
FREE two-week trial of Treatment OnDemand.
Hazelden's best-selling evidence-based program for treating co-occurring disorders, Co-occurring Disorders Program (CDP), addresses issues that directly affect clients living with a substance use disorder and nonsevere mental illness. Flexible and easy to implement, the five client topics provide a comprehensive and proven-effective treatment protocol for your team. However, each component is also effective as a stand-alone program. Components include:
CDP is suitable for individual or group therapy, and residential or outpatient treatment, including intensive outpatient treatment settings. The subscription includes:
2,482 pages of material
90 minutes of video
All facilitator guides, client sessions, reproducible materials, and videos from the program
Two bonus video programs: Implementing Evidence-Based Practices in Behavioral Health and Addressing Chronic Diseases: Health-Management Strategies for Use with Behavioral Health Clients
Access to our digital recovery library with over 100 recovery-related facts sheets on addiction, Twelve Step recovery, relapse prevention, mental and physical health, and more
Additional client education resources, including videos and fact sheets
Free, automatic content updates
Pricing:
1-10 clinicians: $1,799 per year
11-25 clinicians: $2,399 per year
25+ clinicians: $95.96 per clinician
Questions? Call 800-328-9000 to talk with your
sales representative.

This evidence-based program provides the information and tools necessary to deliver the best care possible¿in any setting¿to all patients with co-occurring disorders.

Item: SE9980
Publisher: Hazelden
Published Year: 2016
Category: Professional
No Other Formats or Editions Found