OnDemand Focus on Living Skills (1-10 Clinicians)
Practical Guidance and Personal Growth, A Hazelden On Demand Collection
One Year Electronic Subscription, Over 200 minutes of Video and Handouts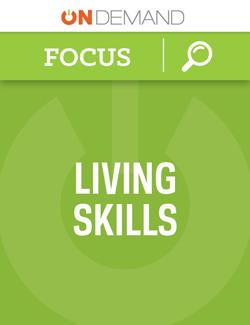 OnDemand Focus on Living Skills (1-10 Clinicians)

This single item can not be purchased online. Please call Hazelden Publishing at 800-328-9000 or 651-213-4200 (outside USA) to talk with one of our sales representatives.
We want you to be confident in your purchase. Preview a digital subscription and explore the easy-to-use platform before you buy. Request a
FREE two-week trial of Treatment OnDemand.
Hazelden Publishing's Living Skills examines 12 basic skills but necessary skills to help clients live healthy, fulfilling lives.
The Living Skills
program is a robust collection of videos, workbooks, and guides. Through exercises, discussions, and role-play--in group or individual sessions--Living Skills addresses the underlying emotional, behavioral, and cognitive barriers that keep people from living a healthy and fulfilling life. The 12 topics are divided into two categories:
Personal Growth
and
Practical Guidance:
Personal Growth covers the internal skills needed to be a positive member of a community. Topics include:

Making decisions
Refusal skills
Interpersonal skills
Values and responsibilities
Setting and attaining goals
Parenting and child development

Practical Guidance provides information on the day-to-day external skills needed to live a healthy life. Topics include:

Hygiene and self-care
Sexual health
Looking for work
Education
Managing money
Securing housing
The subscription includes:
984 pages of material
240 minutes of video
All facilitator guides, client sessions, reproducible materials, and videos from the program
Additional client education resources, including videos and fact sheets
Free, automatic content updates
Pricing:
1-10 clinicians: $599 per year
11-25 clinicians: $999 per year
25+ clinicians: request a quote
Questions? Call 800-328-9000 to talk with your
sales representative.

Hazelden Publishing's Living Skills examines 12 basic skills that many people take for granted. Ideal for treatment, mental health, criminal justice, and a variety of other settings, it provides the tools necessary to help clients live healthy, fulfilling lives.

Item: SE9954
Publisher: Hazelden
Published Year: 2015
Category: Professional
No Other Formats or Editions Found