"Joy and gratitude can be very vulnerable and intense experiences."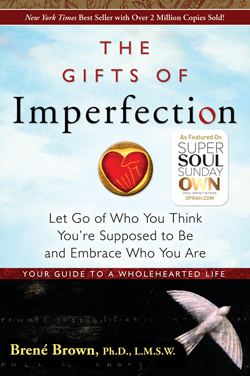 Other titles you may like.

Codependent No More

The Language of Letting Go


Each Day a New Beginning
Visit Recovery Road to view and listen to all the episodes.
Episode 63 -- November 16, 2020
The Gifts of Imperfection: Scarcity and Fear of the Dark
Ten years after it was first published, Brené Brown, in her book The Gifts of Imperfection: Let Go of Who You Think You're Supposed to Be and Embrace Who You Are, gives us advice that is particularly relevant this year—especially as we get close to winter. Here are her thoughts on fear of the dark and scarcity, as they get in the way of our gratitude and joy in these challenging times. As Brene says, "Joy and gratitude can be very vulnerable and intense experiences. We are an anxious people and many of us have very little tolerance for vulnerability. Our anxiety and fear can manifest as scarcity." This year, we've lived through an intense experience as a world and in our nation, in our jobs, families and social circles. If we're in recovery, this vulnerability is likely heightened. So, let's consider Brene's words and how we can face the fear —and how we can find our gratitude and joy despite the times we're in.
It has been edited for brevity.
The very first time I tried to write about what gets in the way of gratitude and joy, I was in sitting on the couch in my living room with my laptop next to me and my research memo journal in my hands. I was tired and rather than writing, I spent an hour staring at the twinkle lights hanging over the entryway into my dining room. I'm a huge fan of those little clear, sparkly lights. I think they make the world look prettier, so I keep them in my house year-round.
As I sat there flipping through the stories and gazing at the twinkle lights, I took out a pen and wrote this down:
Twinkle lights are the perfect metaphor for joy. Joy is not a constant. It comes to us in moments—often ordinary moments. Sometimes we miss out on the bursts of joy because we're too busy chasing down extraordinary moments. Other times we're so afraid of the dark that we don't dare let ourselves enjoy the light.
A joyful life is not a floodlight of joy. That would eventually become unbearable.
I believe a joyful life is made up of joyful moments gracefully strung together by trust, gratitude, inspiration, and faith.
For those of you who follow my blog, you'll recognize this as the mantra for my gratitude posts on Fridays that I call TGIF. I turned this quote into a small badge, and part of my gratitude practice is a weekly post about what I'm Trusting, what I'm Grateful for, what Inspires me, and how I'm practicing my Faith. It's incredibly powerful to read everyone's comments.
Joy and gratitude can be very vulnerable and intense experiences. We are an anxious people and many of us have very little tolerance for vulnerability. Our anxiety and fear can manifest as scarcity. We think to ourselves:
I'm not going to allow myself to feel this joy because I know it won't last.
Acknowledging how grateful I am is an invitation for disaster.
I'd rather not be joyful than have to wait for the other shoe to drop.
Fear of the Dark
I've always been prone to worry and anxiety, but after I became a mother, negotiating joy, gratitude, and scarcity felt like a full-time job. For years, my fear of something terrible happening to my children actually prevented me from fully embracing joy and gratitude. Every time I came too close to softening into sheer joyfulness about my children and how much I love them, I'd picture something terrible happening; I'd picture losing everything in a flash.
At first I thought I was crazy. Was I the only person in the world who did this? As my therapist and I started working on it, I realized that "my too good to be true" was totally related to fear, scarcity, and vulnerability. Knowing that those are pretty universal emotions, I gathered up the courage to talk about my experiences with a group of five hundred parents who had come to one of my parenting lectures. I gave an example of standing over my daughter watching her sleep, feeling totally engulfed in gratitude, then being ripped out of that joy and gratitude by images of something bad happening to her.
You could have heard a pin drop. I thought, Oh, God. I'm crazy and now they're all sitting there like, "She's a nut. How do we get out of here?" Then all of the sudden I heard the sound of a woman toward the back starting to cry. Not sniffle cry, but sob cry. That sound was followed by someone from the front shouting out, "Oh my God! Why do we do that? What does it mean?" The auditorium erupted in some kind of crazy parent revival. As I had suspected, I was not alone.
Most of us have experienced being on the edge of joy only to be overcome by vulnerability and thrown into fear. Until we can tolerate vulnerability and transform it into gratitude, intense feelings of love will often bring up the fear of loss. If I had to sum up what I've learned about fear and joy, this is what I would say:
The dark does not destroy the light; it defines it. It's our fear of the dark that casts our joy into the shadows.
Scarcity
These are anxious and fearful times, both of which breed scarcity. We're afraid to lose what we love the most, and we hate that there are no guarantees. We think not being grateful and not feeling joy will make it hurt less. We think if we can beat vulnerability to the punch by imaging loss, we'll suffer less. We're wrong. There is one guarantee: If we're not practicing gratitude and allowing ourselves to know joy, we are missing out on the two things that will actually sustain us during the inevitable hard times.
What I'm describing above is scarcity of safety and uncertainty. But there are other kinds of scarcity. My friend Lynne Twist has written an incredible book called The Soul of Money. In this book, Lynne addresses the myth of scarcity. She writes,
For me, and for many of us, our first waking thought of the day is "I didn't get enough sleep." The next one is "I don't have enough time." Whether true or not, that thought of not enough occurs to us automatically before we even think to question or examine it. We spend most of the hours and the days of our lives hearing, explaining, complaining, or worrying about what we don't have enough of.... We don't have enough exercise. We don't have enough work. We don't have enough profits. We don't have enough power. We don't have enough wilderness. We don't have enough weekends. Of course, we don't have enough money—ever.
We're not thin enough, we're not smart enough, we're not pretty enough or fit enough or educated or successful enough, or rich enough—ever. Before we even sit up in bed, before our feet touch the floor, we're already inadequate, already behind, already losing, already lacking something. And by the time we go to bed at night, our minds race with a litany of what we didn't get, or didn't get done, that day. We go to sleep burdened by those thoughts and wake up to the reverie of lack.... What begins as a simple expression of the hurried life, or even the challenged life, grows into the great justification for an unfulfilled life.1
As I read this passage, it makes total sense to me why we're a nation hungry for more joy: Because we're starving from a lack of gratitude. Lynne says that addressing scarcity doesn't mean searching for abundance but rather choosing a mind-set of sufficiency:
We each have the choice in any setting to step back and let go of the mind-set of scarcity. Once we let go of scarcity, we discover the surprising truth of sufficiency. By sufficiency, I don't mean a quantity of anything. Sufficiency isn't two steps up from poverty or one step short of abundance. It isn't a measure of barely enough or more than enough.
Sufficiency isn't an amount at all. It is an experience, a context we generate, a declaration, a knowing that there is enough, and that we are enough. Sufficiency resides inside of each of us, and we can call it forward. It is a consciousness, an attention, an intentional choosing of the way we think about our circumstances.2
Scarcity is also great fuel for the gremlins. In my earlier shame research and in this more recent research, I realized how many of us have bought into the idea that something has to be extraordinary if it's going to bring us joy. In I Thought It Was Just Me, I write, "We seem to measure the value of people's contributions (and sometimes their entire lives) by their level of public recognition. In other words, worth is measured by fame and fortune. Our culture is quick to dismiss quiet, ordinary, hardworking men and women. In many instances, we equate ordinary with boring or, even more dangerous, ordinary has become synonymous with meaningless."3
I think I learned the most about the value of ordinary from interviewing men and women who have experienced tremendous loss such as the loss of a child, violence, genocide, and trauma. The memories that they held most sacred were the ordinary, everyday moments. It was clear that their most precious memories were forged from a collection of ordinary moments, and their hope for others is that they would stop long enough to be grateful for those moments and the joy they bring. Author and spiritual leader Marianne Williamson says, "Joy is what happens to us when we allow ourselves to recognize how good things really are."
---
1 Lynne Twist, The Soul of Money: Transforming Your Relationship with Money and Life (New York: W. W. Norton and Company, 2003), 44.
2 Lynne Twist, The Soul of Money: Transforming Your Relationship with Money and Life (New York: W. W. Norton and Company, 2003), 75.
3 Brené Brown, I Thought It Was Just Me (but it isn't): Telling the Truth About Perfectionism, Inadequacy, and Power (New York: Penguin / Gotham Books, 2007), 204—205
About the Author:
Brené Brown is a research professor at the University of Houston where she holds the Huffington Foundation - Brené Brown Endowed Chair. Brown has spent the past two decades studying courage, vulnerability, shame, and empathy. She is the author of five #1 New York Times bestsellers: The Gifts of Imperfection, Daring Greatly, Rising Strong, Braving the Wilderness, and Dare to Lead.
© 2010 by Brené Brown
All rights reserved