"Shame happens between people, and it heals between people."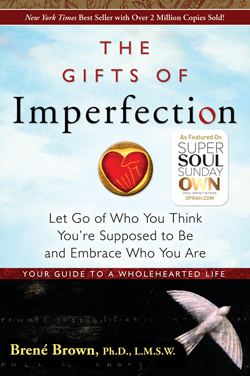 Other titles you may like.

Codependent No More

The Language of Letting Go


Each Day a New Beginning
Visit Recovery Road to view and listen to all the episodes.
Episode 2 -- May 12, 2020
Shame Resilience 101

Everyone deals with feelings of shame sometimes, especially those of us in recovery. For many of us, shame can be paralyzing, and moments of extreme stress or crisis can bring shame rushing to the surface. Now more than ever, we need to remember that it's unrealistic to expect ourselves to be perfect, even under the best circumstances. While we're all going through this time of collective crisis, let's revisit the basics of shame: what it is, why it hurts, and what we can do about it. To help us out, we're turning to one of the world's top experts on shame, Brené Brown, with this excerpt from her book The Gifts of Imperfection: Let Go of Who You Think You're Supposed to Be and Embrace Who You Are.
Here are the first three things that you need to know about shame:
We all have it. Shame is universal and one of the most primitive human emotions that we experience. The only people who don't experience shame lack the capacity for empathy and human connection.
We're all afraid to talk about shame.
The less we talk about shame, the more control it has over our lives.
Shame is basically the fear of being unlovable--it's the total opposite of owning our story and feeling worthy. In fact, the definition of shame that I developed from my research is:
Shame is the intensely painful feeling or experience of believing that we are flawed and therefore unworthy of love and belonging.
Shame keeps worthiness away by convincing us that owning our stories will lead to people thinking less of us. Shame is all about fear. We're afraid that people won't like us if they know the truth about who we are, where we come from, what we believe, how much we're struggling, or, believe it or not, how wonderful we are when soaring (sometimes it's just as hard to own our strengths as our struggles).
People often want to believe that shame is reserved for the folks who have survived terrible traumas, but this is not true. Shame is something we all experience. And while it feels as if shame hides in our darkest corners, it actually tends to lurk in all of the familiar places, including appearance and body image, family, parenting, money and work, health, addiction, sex, aging, and religion. To feel shame is to be human.
The stories of our struggles are difficult for everyone to own, and if we've worked hard to make sure everything looks "just right" on the outside, the stakes are high when it comes to truth-telling. This is why shame loves perfectionists--it's so easy to keep us quiet.
In addition to the fear of disappointing people or pushing them away with our stories, we're also afraid that if we tell our stories, the weight of a single experience will collapse upon us. There is a real fear that we can be buried or defined by an experience that, in reality, is only a sliver of who we are.
I tell a lot of these stories in my book I Thought It Was Just Me, but the one that comes to mind now is about a woman who worked up the courage to tell her neighbor that she was a recovering alcoholic, only to have her neighbor say, "I'm not sure I'm comfortable with my kids playing at your house anymore." This brave woman told me that she pushed through her fear and said, "But they've played here for two years, and I've been sober for twenty years. I'm not any different than I was ten minutes ago. Why are you?"
If shame is the universal fear of being unworthy of love and belonging, and if all people have an irreducible and innate need to experience love and belonging, it's easy to see why shame is often referred to as "the master emotion." We don't have to experience shame to be paralyzed by it--the fear of being perceived as unworthy is enough to force us to silence our stories.
And if we all have shame, the good news is that we're all capable of developing shame resilience. Shame resilience is the ability to recognize shame, to move through it constructively while maintaining worthiness and authenticity, and to ultimately develop more courage, compassion, and connection as a result of our experience. The first thing we need to understand about shame resilience is that the less we talk about shame, the more we have it.
Shame needs three things to grow out of control in our lives: secrecy, silence, and judgment. When something shaming happens and we keep it locked up, it festers and grows. It consumes us. We need to share our experience. Shame happens between people, and it heals between people. If we can find someone who has earned the right to hear our story, we need to tell it. Shame loses power when it is spoken. In this way, we need to cultivate our story to let go of shame, and we need to develop shame resilience in order to cultivate our story.
About the Author
Brené Brown is a research professor at the University of Houston where she holds the Huffington Foundation -- Brené Brown Endowed Chair. Brown has spent the past two decades studying courage, vulnerability, shame, and empathy. She is the author of five #1 New York Times bestsellers: The Gifts of Imperfection, Daring Greatly, Rising Strong, Braving the Wilderness, and Dare to Lead.
Copyright 2010 by Brene Brown